Q&A with: Colby-Sawyer College president Tom Galligan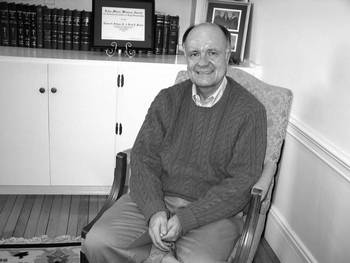 Less than a year ago, Tom Galligan was sweating in the heat of the South, where he served as dean of the University of Tennessee's College of Law in Knoxville, Tenn., and before that as law professor at Louisiana State University in New Orleans.
Today the new president of Colby-Sawyer College in New London does not appear to have been fazed by the most recent Nor'easter that dumped nearly two feet of snow on the campus.
Galligan jokes that his commute has only been lengthened by the fact that he can't cut across the college's front lawn to reach his office from his home in the president's house across the street.
Eager, energetic and affable, the 51-year-old Galligan appears just as relaxed in his formal Federalist-flavored office as he does conversing with young people about current rock bands — something he said he enjoys exploring with his four children, college-aged Patrick and Sarah and teenagers Aisling and Jennifer.
So what could bring a law professor from large state universities in the South to a private liberal arts college in rural New Hampshire, where the student population is 900 and the average class size is 17?
New Hampshire Business Review sat down with Galligan at the beginning his second semester to hear his answer to that question as well as his thoughts on the college's future and his own.
---
Q. Why did you move from the courtroom to the classroom?
A. From the time I was a tiny child, I said I wanted to be a lawyer, but if not a lawyer, maybe a teacher or a writer. As it turns out, I've sort of done all three of those.
I went to college, and at that point in my life, I decided I didn't want to be a lawyer. So I went home to Montclair, N.J., where I'm from originally, and got a job as a lawn doctor. That convinced me that I really did need to go back to school. So I went back and applied to law school. I had a great experience and I really enjoyed it.
I practiced commercial litigation for four years, from '81 to '85. We were living in Seattle at the time when our first child was born. I was at a point in my life that I thought if I was ever going to try teaching, now would be the time.
We went back to New Jersey and I went back to school, to Columbia (University), to get an LLM, an advanced law degree, while I was on a leave of absence from my firm.
I applied for teaching positions and got one at LSU and never looked back. I love to teach.
Q. What is it like to move from larger state universities to a small private college?
A. Actually, while the University of Tennessee was large, the law school was small, only about 450 students and about 100 faculty and staff. So, really, Colby-Sawyer is bigger.
The difference is, when I look out the street, I see Mount Sunapee instead of another brick building at a campus of 26,000 people.
In terms of my direct responsibilities, however, it's very, very similar. This is a place where the personal side of education is very important. The students know the faculty, and the faculty and staff are working with the students directly. And that's something we tried to do in the law school in Tennessee.
One thing that is very different is the fact that I was dealing with graduate students, not undergraduates. So the residential education experience is a new one for me.
The other great thing is to learn more about some of the liberal arts programs, like philosophy and English and athletic training and graphic design. That's one of the great things about Colby-Sawyer — it really is interdisciplinary. I think that kind of background makes the students better professionals.
Q. What do you feel makes the learning experience at Colby-Sawyer unique?
A. Over the last five years or so, we have designed this incredible liberal education pathway program, which is exciting, interdisciplinary, thematic, and really unique in America.
Many colleges have a first-year seminar, but our students come back to the same class with the same professor and students in the spring of their sophomore year, bringing what they've learned in their separate courses and teach each other. And the teacher learns right along with the students.
The subjects of the pathways are not discipline-based. Previous subjects have been "Money and the Meaning of Life," "The Global Platter," which dealt with how food, culture and the global economy intersect, and even one on rivers, their science and their metaphors in literature.
Q. There is such an emphasis on today's young people to be a true citizen of the world, or at least a player in the world community. How are you bringing the world to your students, and your students to the world?
A. We are still at the outset of all of that. We want to do more. We need to do more. I think we need to look at ways in which we can have exchanges with schools overseas. We also need to think about ways in which international students can come here.
We would also like to be more diverse than we are. We say we want students to understand and apply multiple perspectives, and the best way to do that is to live with multiple perspectives.
We're also looking at our international travel guidelines. One of the ways we think we can help internationalize our students' experiences is to allow faculty to take short courses, two or three weeks, aboard.
Q. College isn't cheap, especially and particularly in New Hampshire. What will you do to keep costs down but keep the quality high?
A. One, we will continue to provide meaningful financial aid for those students who need that financial aid. About 85 percent of students receive some sort of financial aid from the college. So we will continue to try and raise money, and increase the endowment.
Two, we will strive to provide students with what they need, but not be extravagant. We won't be a five-star hotel; we want to be more like a nice inn.
We also have a student class that works with community partners on a particular project or issue. This year's client is Colby-Sawyer College. They are looking at how sustainable we are. They will make recommendations to us on how we can save money and be more environmentally friendly.
We're also looking at all the costs we incur and to be reasonable. For instance, when someone decides to leave us, we look at whether we need to replace that person or is there a way we can analyze and re-engineer that job to use people that are already here?
Q. Do you have any capital improvements planned?
A. We are looking at renovating our arts center. We have a really vibrant performing arts program. That's the big project right now.
Q. What's the goal for that project?
A. We're pricing it right now, and we're hoping to put it in the $10 million to $12 million range for Phase I construction.
Q. How do you want your time at Colby-Sawyer to be remembered?
A. A lot of what we talked about was hopes, dreams and strategic stuff. Certainly, I want to be remembered for that. But I guess I want to be remembered for my day-to-day interactions with people. I want to be remembered as a person who people felt respected them and smiled at them, and who set a positive tone.
I had a colleague and friend in Tennessee who said to me once, "You lead by example." That was really high praise. Hopefully, I'll keep leading by example.