Q&A with: Clothier George Angelopoulos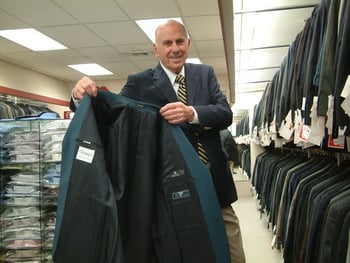 Growing up in the Depression, "you were lucky if you had one pair of pants," says George Angelopoulos. Today he has 3,500 to 4,000 suits in the downtown Manchester store he calls home.
The owner of George's Apparel (formerly George's Clothing Mart) opened his first clothing store in 1955 in his hometown of Dover, where he used to shine shoes in his father's cobbler's shop. Angelopoulos, 82, is a widower with four children and nine grandchildren. We found the impeccably dressed clothier at work in his basement office.

---
Q. How did you acquire this store?
A. I used to go down to the Athens restaurant, and I always met John Gravas, who owned the Clothing Mart. I got to know him pretty well, and we used to talk about this and that. And it just happened he wanted to retire, and he asked me if I was interested. He did a very huge business. So I took that over in 1978.
Q. Would you care to divulge what the price was?
A. How much did I pay for it? One hundred thousand dollars.
Q. If you were to sell it now, how much would it be worth?
A. Oh, I don't know. A million, two million. But, you know, the type of person he was — we talked about it, and he said a hundred thousand and I said OK, and we shook hands. A week or two later, he could have sold it for more money. He sold it to me. That was a classy man.
We did so much business then. Everybody dressed up. People would come in and buy two or four suits at a time. And my price was about $129, $139, $150. I added some better clothes, like Bill Blass and Palm Beach, and went up to $200, $250. Some days, some Saturdays, I sold as many as 80 suits. I was doing about 8,000 or 9,000 suits a year back then.
Q. How many suits a year do you sell now?
A. About 4,000 to 5,000.
Q. If you're selling roughly half the number of suits you used to, how do you compensate for that?
A. We buy right. We sell sportcoats, maybe 1,500. We also sell pants, 2,500. And shirts and ties are a huge seller with us. Raincoats, topcoats. My main thing with this store is the service. We have free alterations for the life of the garment. If you have it a couple of years, and you lose 10 pounds or something, you bring it in. We'll take care of you. No one does that. If you go to my competition, they charge for alterations.
Q. Who is your competition? It's mostly chain stores, isn't it?
A. It's all chain stores. There are two stores. I'm down here and there's Miller's up in Keene and that's it.
Q. Where do your customers come from?
A. All over. Maine, Massachusetts. The store has been here so long that the children, you know, they go to college, they move away, they come back. I have grandchildren of some of the people I took care of in 1978. My employees are great. I take care of them, they take care of me. No one leaves and that's important. Because the customers come in and they see the same people all the time. That's a big factor.
Q. The chains, I imagine, can undercut you on price.
A. Well, not too much. I'm a discount operation. Right now I'm selling two suits for $299 with free alterations. I carry at least 3,500 to 4,000 suits. I have 36 "extra short" to 60 "portly long." We have a lot of people come in who are difficult to fit. We have a salesman from Macy's (who) sends us customers. They can't fit them so … I don't like to talk about the competition, so we won't discuss that. But they come down.
Q. How come you never joined the exodus of downtown stores to the mall or the suburbs?
A. The main reason I'm still here is I bought this building 14 or 15 years ago.
Q. But you could sell this building at a very nice price and either rent or buy somewhere else.
A. But this is my home. I enjoy coming to work in the morning. I get up in the morning, go to the Y. I work out, go swimming, have breakfast and here I am — home.
Q. Aside from the fact that people don't dress up as much anymore …
A. Well, the casual look is a big factor. I mean, you can walk into a nice restaurant on Saturday night, and I'm the only one there with a sport coat on. The salesman calling on customers who are dressed casually can't go in there with a suit. He has to dress the same as the people he's calling on.
Q. Does that bother you, personally as well as professionally?
A. Of course it bothers me. You get up in the morning, you shave, you shower, you dress up. You feel like a million bucks. I mean you feel better about yourself. But a lot of people today, they're not used to it. The young kids out of college, they don't dress up.
Q. Do suits last longer today?
A. Oh yeah. The fabric is excellent. Unfortunately, there are only two or three companies in this country today. Everything is made overseas.
Q. What percentage of your clothes is made in China?
A. Maybe 75 percent. We get things from Indonesia, Mexico, now Vietnam. Honduras, the Caribbean — you name it. The big factor is the union. People in this country used to make $15, $20 an hour. In China they pay them a dollar a day or whatever their pay is.
Q. How has the economic activity downtown in the last several years affected your business?
A. Well, with the Verizon (arena), we have a lot of traffic going by. All the restaurants are fixed up. Downtown has changed completely, and that's good for me.
Q. Do you get many customers from the hotel across the street?
A. I've got a fixed display there, and I do get people coming in. But word of mouth is the big thing. People move into town and say, "Where do you buy a suit?" "George's."
Q. You could have retired a long time ago. Why do you keep working?
A. I'm not a man of hobbies. What would I do? When I open the store and walk in, it's a "home" feeling. I'll keep working 'till I die.
Q. You'll die with your suit on.
A. There's no better way to go. They'll just take me and put me in the box. And I'll look great!