Q&A with Charlie Sherman, New Horizons executive director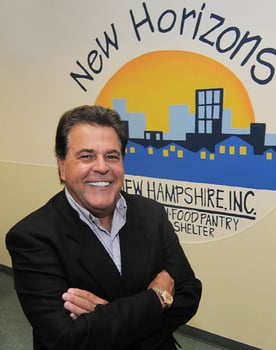 One of New Hampshire's best-known media personalities, Charlie Sherman recently embarked on his fourth career as executive director of New Horizons for New Hampshire, a food pantry, soup kitchen and adult homeless shelter serving greater Manchester's most vulnerable populations.
The Chelsea, Mass., native is best known around the Granite State for the more than two decades he spent as a sportscaster on WMUR-TV and talk show host on WGIR Radio. And while broadcasting is his first passion, the Amherst resident began his career in finance, spending 14 years as a banker before getting his start on the airwaves.
Sherman is now bringing the business acumen, celebrity and connections from his prior careers to his latest post, which he took over in May.
Working in concert with other nonprofits, Sherman is looking to further New Horizons' mission and boost its fund-raising efforts while remaining true to its goal of providing food and shelter to those most in need.
Q. Tell me about your work history.
A. This is my fourth career. I spent 14 years as a banker, 10 years at Commonwealth Bank, a trust company in Boston. I was recruited by Indian Head Bank in Rochester and was vice president there for four and half years. I went to school for radio, television and theater, and so I left the bank in 1986 to take my shot and get back into radio, television and theater. I got hired at a local radio station in Rochester and started doing a lot of radio. I was a traffic reporter for the WBZ 24-hour traffic network, did sports on the weekends for WBZ as a fill-in, I was doing sports with WTSN in Dover and doing cable access shows — anything I could to work on it.
I basically said I'm going to give it a couple of years, and if I can't get my dream job, which was to be on TV and in New Hampshire — which kind of narrowed it down because there was one TV station — and do sports — which really narrowed it down because there were only really two sports jobs. So I gave it a couple years, and said if it doesn't work out, I'll go back into banking, but I've got to give it my shot. So I gave it a couple years and fortunately, I was just about to pack it in and go back into banking when an opening arose at Channel 9.
There was a new news director, Jack Heath, I met with Jack, who gave me a live on-the-air trial and the rest was history. I spent 14 unbelievable years at Channel 9 as the sports guy, so that was my second career.
I left Channel 9 in kind of a colorful way. It was kind of ugly — front-page headlines in The Union Leader. I got mad and quit and walked out on the spot, which was not the smartest thing I've ever done because I loved my job. I learned a very expensive lesson, but you live and learn. I took six months off and was offered a job at WGIR. Great people over there — Joe Graham was one of the first people to call me and said, "When you're ready to come back to work, give me a call and we'll give you a radio show." There were some TV offers, but we didn't want to leave New Hampshire and there's nowhere else to go in TV, so again it was either go back to banking or go into radio. So to avoid banking, I went back into radio and did seven terrific years there. I had a lot of fun hosting a morning news-talk show, a lot of politics.
I had always done a lot of charity work. Through all three of those careers I had done some volunteering here (at New Horizons) — I had emceed a lot of their events, and for the past couple of Christmases my family's been here serving Christmas dinner, so I knew a little bit about the organization, and I had always said when I was at the TV station, if I had one more career I'd really like to run a nonprofit.
One of my most proud things I've done for nonprofits, Mary Conroy of the Special Olympics and I one day sat down to come up with the idea for Penguin Plunge — that was kind of my event for five years, jumping in the ocean every February. That raised $1 million over five years — we're still doing it successfully, but that was one of the proudest things that I've been involved in.
I've always felt the need to give back, it's something I was raised on. Someday I knew I wanted to use a little celebrity and business acumen that I got through the bank and the PR that I knew and use all of that for an organization that I really believed in.
An opening arose at New Horizons, and I said, I'll check it out. I went through an extensive series of interviews — it was the most intensive interview process of any of my careers — it literally went on for four months. It was a search committee of five people, and they wanted to make sure they got the right person. Numerous times I said to my wife, "This is crazy, I think I'll just stick with radio," and she said, "No, I think you really believe in that place, you should stick it out." Then they made the offer and I accepted, and I'm glad I did.
Q. What drew you to New Horizons specifically?
A. Their mission here is so basic — to provide food and shelter to those in need. It's so basic, but it's something so many of us just take for granted, and I wanted to be able to have a part in that, so that was the biggest draw for me.
Q. Do you miss anything from broadcasting?
A. One of the things I said to the board when I was hired was that I want to be able to keep my finger in the media a little bit, as long as it doesn't interfere time-wise or otherwise with what I'm doing. I had the pleasure this year of broadcasting Fisher Cats games on the weekends, so it's kind of kept me involved doing play-by-play. As long as the microphone is there, I'm a happy guy.
I've spoken to Bill Binnie a couple of times about doing some stuff once he gets the new Channel 50 up and running, so there may be some opportunities there — at least on a freelance basis, because I miss it. It's in my blood.
Q. Were people surprised about your career change?
A. Tremendously. I still get it four months later — "You're doing what?" — but I think people who really know me know of my passion for giving back to the community.
I was brought up in a three-family tenement in Chelsea where we were blessed. We never owned a car, never owned a home, neither of my parents ever had a drivers' license, but we always considered ourselves fortunate because we always had a roof over our head. We were happy and had the basics and we were taught to give back. Being a kid and collecting money for the Jimmy Fund or UNICEF, my parents always taught us that, no matter how big or small, you need to help other people.
Q. What qualities do you bring to the job?
A. They were looking for a number of requirements. They were looking for somebody who understood the financials, which I bring from my banking years. They were looking for somebody who understood the media side of things and to become a face of the organization. And they were looking for somebody who had relationships, not only in Manchester, but around the state.
Q. What are some changes that you'd like to make to the organization?
A. Sources of funding. The needs of what we do are so important to the community, and yet you see government cuts cutting funding for shelter and for providing food. Politicians tend to be so out of touch with what people really need, and that's been a source of frustration for me to see how arbitrarily cuts are made and nobody looks to see what the end result is. Now I see firsthand some of those things we talked about and what the end result is, how it works all the way through the system and how it really affects people.
All that does is challenge me that much more to go out and raise the money to offset those costs. We're in the business where business is booming and you don't want it to be. Our numbers, in just the four months I've been here, have increased dramatically. When I got here, we were serving dinner to 180 people, and now we're serving 200 people every night. When I got here we were providing shelter to 60 people a night, now we're providing shelter to 70 people a night. We serve 900 families through our food pantry every month — those numbers have increased from about 850. So our business is booming, but our funding is dropping and we've got to find ways to fund it.
Q. Where does your funding come from?
A. Federal, state, CIP (community investment program) money that comes through the city but is from the federal government, events that we run, and donations from the general public. We have a lot of people who are just wonderful, sending checks monthly, some people send it once a year, but the bulk of our support comes from donations from regular people.
We did an event last month with the New Hampshire Potters Guild, Empty Bowls, where for $20 you get a ceramic bowl that one of their potters makes that you can keep and you have 15 local restaurants providing samples of soup. On Nov. 22, we'll host a Thanksgiving breakfast, where 750 people come in and have breakfast with us to kick off the holiday season. Our biggest fundraiser is our Walk Against Hunger, and that's held in May and that raises about $110,000.
But it's hard. We don't have any of those million dollar fundraisers, or half a million, or even a couple hundred thousands dollars. So much of what we do comes from small donations. It's hard because oftentimes it's the same amount of work to get $100 as it might be to get $1,000 from somebody. It's a lot of caring people who want to help us.
Q. Were you affected by state budget cuts in the last budget cycle?
A. Not as severely as some other organizations. I think our cuts ended up at less than 10 percent, so we didn't get clobbered like some of the nonprofits. I talked to some of the other executive directors of other nonprofits and there were agencies that had to close their doors because of the cuts. They knocked the heck out of some of those organizations. They don't seem real compassionate in Concord these days, but I guess they might have some compassion for the homeless. I guess, but maybe I shouldn't speak so soon.
Q. Aside from fundraising, what other issues do nonprofits in general face in this economy?
A. I think so much of it comes back to cuts in funding and cuts from people who might otherwise send a check but maybe have lost their job. I think there are challenges to continue on with your mission, and we're looking at other ways — we have a lot next door that's vacant and we're trying to decide what to do with it. Do we get into other areas? We know what we do well here — we run a shelter, run a soup kitchen, food pantry. Do we want to get into the housing business, and is it a good time to get into the housing business? Maybe look at respite care, there's nobody with a respite care facility in the entire state, but if you get into those areas, there are other costs associated with them.
We can do a capital campaign and raise the money necessary, but then we need to raise the money on a monthly basis to operate it.
There's the Manchester Continuum of Care, where a bunch of nonprofits meet once a month and talk about some of the issues facing all of us. A lot of the challenges we face are the same: Do we keep doing what we're doing or should we look at doing other things? But it all comes down to money in the end. Is the funding there, and what are creative ways to raise money in the end?
Q. Have you thought about introducing a retail tier for fundraising like Families in Transition has done?
A. We have talked about that, especially with this lot here. What you really need to understand before you do something like that is if you do it, can you do it well? At Families in Transition, Maureen Beauregard is a genius, and they do it so well. The last thing I want is for us to build a building and let's say, open a pizza parlor, which would be great to train workers who could then go on to work at other pizza parlors or wherever. But what do I know about running a pizza restaurant? I know from my banking days that opening a restaurant is the worst business in the world — the failure rate is about 90 percent, so I want to make sure that whatever we do, it's something that we do well.
I know what we do well here, and that's primary to me just to continue to do what we do but again, we need to get creative.
Q. What about offering on-the-job training?
A. If you stay here for any period of time, you have to meet regularly with caseworkers and they will help find job-training opportunities, job opportunities, housing opportunities. We also have a medical facility providing health care for the homeless down in the basement, so we have teams of mental-health workers and caseworkers who all work in collaboration in helping people get back on their feet.
Our head cook went through the program they have at the New Hampshire Food Bank to train people. We're huge supporters of that program. Even though we don't do it directly, we'll work in collaboration with them. We've taken somebody that they've trained and given him a job — our head cook — and he's fabulous. Another example of nonprofits working together successfully.
That's something that, once I've been here a while, I want to look at. Are there ways we can have a role in training some of the people who use our service, whether it's working in the kitchen and learning some of those skills or even working in the custodial area, or working in the pantry so maybe they can go work in the supermarket? Those are some areas I'd like to look at in the future in regards to job-training skills.
Q. How many people work here?
A. We have 29 employees — much of it is in the shelter. We also do 30,000 volunteer hours a year. It's unbelievable the amount of volunteerism. We couldn't operate without volunteers. People come in every night to serve every night of the week. There's a lot of good in people still. We may not see it every day, but there's a lot of good in people.