Q&A with: Cannon Mt. General Manager John DeVivo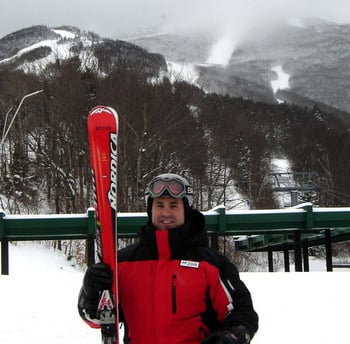 Skiers, boarders and ski industry leaders alike all reveled in the Dec. 3 storm that blanketed New Hampshire's ski country. To most, the snow event proved a promising start to the 2007 ski season. To John DeVivo, the snowfall also was the perfect kickoff to his first season as general manager of Cannon Mountain Ski Resort and Franconia Notch State Park.
Prior to taking the helm at Cannon in July, DeVivo served as vice president of mountain operations at Attitash Resort in Bartlett, and, before that, director of operations for Sunday River Ski Resort in his hometown of Bethel, Maine.
In addition to his 20 years of experience in the ski industry, DeVivo, 39, brings to Cannon and the state park as a whole a love for the region and a desire to see it become a year-round destination of choice for skiers, boarders and outdoor enthusiasts alike.
Home to New Hampshire's only aerial tramway, Cannon Mountain boasts the highest skiing and riding elevation and largest vertical drop of any of the Granite State's ski and boarding destinations.
Listed by Ski magazine as one of the "Seven Great Places to Ski with Your Kids," in its November issue, Cannon Mountain is beginning to capture the national attention DeVivo believes it deserves. And he has wasted no time working with his team to initiate the changes he believes will revitalize the 70-year-old ski mountain.
DeVivo recently came in from the slopes to talk with New Hampshire Business Review about the changing face of Cannon Mountain and the surrounding Franconia Notch State Park.
---
Q. Could you ask for a better way to begin your first season at Cannon?
A. This is great. We're weeks ahead on the calendar and months ahead already on revenue. Mother Nature has done very well by us.
Q. How do you build off of this momentum?
A. We've actually done a few different things. We've looked at our operating structure and made a couple of moves early on. We made a conscious decision to buy our first Wench Cat, a radical change that will help improve 30 to 40 percent of our terrain. And we've adjusted our opening scenario. Our tramway will be open the Saturday before Christmas if weather holds, and we essentially told our snowmaking foreman we're going to take the handcuffs off so he can get us to 30 trails quicker than ever before. We'll do this by staying low. This way we'll have plenty of skiing at 3,400 feet.
And for the first time we opened the Tuckerbrook family area (11 to 13 trails) on the first weekend in December.
Q. With all Cannon has to offer why do you think it has remained a best-kept secret?
A. Frankly, my thought is we needed to become more aggressive in telling the world about us. We did a good job of holding those things that make Cannon special close to the vest. We've really been a season's pass holders' mountain. But we just scored five top 10 eastern rankings in the Ski magazine readers' poll. Their recognition shows folks are hearing about us.
Q. It sounds like a new marketing campaign may be in Cannon's future.
A. We have contracted with Tracey, Edwards, ONeil and are looking at an aggressive marketing campaign. We have a new ad campaign, and our new Web site is radically different. And our print and merchandising has also changed.
We also entered into a new campaign partnership with the Clay Family Auto Dealerships in Massachusetts, which will give us an early boost for media presence down country.
Q. There was a time when Cannon enjoyed a strong following – why do you think that changed over the years?
A. I like to say "we're in a state of rediscovery." We lost a generation of folks both at Cannon and the state park. Funds became tighter for everything from operations to advertising. Now as part of three-to-five-year plan we're raising the bar and establishing ourselves in the summer as a destination area and in winter a ski attraction.
Q. Can you elaborate on that plan?
A. So much is going on it's tough to encapsulate. In addition to recent changes, we're working on developing winter and summer partnerships for Franconia Notch State Park that may include things like mountain biking, an outdoor adventure school, summer and winter climbing, fly fishing. This is the perfect area for all of that. Why not Franconia Notch? Americasbestonline.net just voted us "America's 7th Most Beautiful State Park." Why not take advantage of that?
We're also hoping to finalize the Mittersill land exchange, which will add 65 to 75 percent more ski terrain. This is not yet a done deal, but the public hearing phase will begin soon.
Q. The blending of generations in the new leadership structure at Cannon is a unique approach. Are you experiencing the results you had hoped for?
A. We needed to shake things up a bit. When I looked at our operational chart we were lacking in female and younger leadership. We knew it would be important to hang on to experienced older leadership, but we wanted to add younger leadership, female leadership and potentially minority leadership. We're doing that, and so far it's brought a lot of energy and great ideas.
Q. With all the changes do you have any worries about becoming a victim of your own success?
A. No. We are still a state-owned entity, so we still have to remain within certain parameters. These parameters act like an invisible fence in some ways, keeping some things out. When you ski here it's still an all-natural experience. And we have 15 to 20 thousand beds within a short, easy ride. We're still uninvaded, and that's the beauty of the Cannon experience. We like to say we provide a vacation from the resort experience.
Q. Is global warming a threat to the region and industry?
A. I don't have an opinion on global warming one way or another. Each individual snowmaking opportunity does seem to have shrunken a bit, but to me it seems to be more of a seasonal shift. We seem to start the snowmaking season a little later and end a bit earlier now going from late November, early December to late April. But most places are closing with trails still snow-covered.
People just get busy with other things that time of year. They're playing golf or running to Little League games.
From an environmental perspective, our three-to-five-year plan includes going green. We already have a green team working on eight different initiatives. As part of the state of New Hampshire we feel responsible. We plan to hold ourselves to a higher standard.
Q. What can people expect from Cannon and Franconia Notch State Park once the snow melts?
A. We don't know yet. There's a lot we're starting to pursue both short and long term. We'll spend more time this winter discussing summer than we ever have before. The best I can do is say, "Stay tuned."