Q&A with: Business court Judge Richard McNamara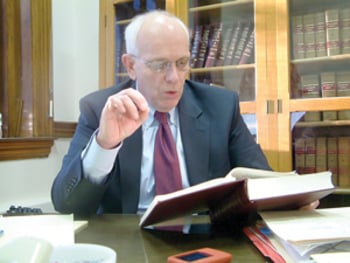 On Dec. 1, the state of New Hampshire set up its first business court docket. If both parties wish, they can now go before the court's first and only judge, the newly appointed Judge Richard B. McNamara, a former commercial law attorney from Wiggin & Nourie in Manchester and a past president of the New Hampshire Bar Association.
Q. Where are you from?
A. I grew up in southern New Jersey, near the Atlantic City area.
Q. What did your parents do?
A. Neither one was a lawyer — they were both working class. My dad worked for many years, ran a small business. My mom worked outside the home.
Q. What was the business?
A. It was a restaurant and bar in a resort area in southern New Jersey. He did that for a while, and so I had some familiarity with small businesses, and my mom worked outside the home.
Q. Were you interested in law back then?
A. No, I never had a lifelong desire to be a lawyer. I think it developed when I was in college. I think my interest in history led me to the idea of the law. I had my undergraduate degree in English literature, and I did a fair amount of writing when I was an undergraduate. I was quite interested in language, and frankly I took the law boards my senior year, having never taken a political science course, and did surprisingly well on them and decided to go to law school. I was taken by the intellectual of challenge of it, so I went to law school.
Q. This was also in Boston.
A. I met my wife when I was an undergraduate at Boston College. When I graduated from BC, I had planned on going to law school back in New Jersey and actually was accepted to and attended Rutgers University. We had planned on being married, and for a number of reasons I decided to transfer to BC. I did, and I graduated in 1975. I was the editor and chief of something called the Uniform Commercial Code Reporter Digest.
Q. That is business law.
A. Oh yeah. At the time the law review was called the Industrial and Commercial Law Review, and one of the things about the law school was that it had an emphasis on commercial law and commercial litigation. So with my great commercial law background I took my first job when I met David Souter [later a U.S. Supreme Court justice] who would interview people at various law schools in Boston, and he offered me a job as a prosecutor in the criminal division of the New Hampshire attorney general's office.
Souter at that time was the deputy attorney general. The attorney general was Warren Rudman [who later went on to become a U.S. senator.] I don't know why I did it. I had no background in criminal law, and at the time Judge Souter, was trying to make the AG a nonpolitical place. He would just go out to law schools around the country and interview people that he thought would be a good fit. He offered me the opportunity to take a job at the criminal division and prosecute homicides. Before I was 30, I prosecuted a number of homicide cases to verdict.
While I was at the attorney general's office I began to frantically keep notes of everything, and I ended up publishing two books. One, "New Hampshire Criminal Practice and Procedure," is now in the fourth edition and used pretty widely in this state.
In 1979 I left the attorney general office.
Q. You went to Wiggin & Nourie after that?
A. I left in 1979 and went to Wiggin & Nourie in Manchester, and I began doing civil litigation. What I did primarily was work for insured defendants, and I did some court-appointed criminal cases, including a capital case in the early '80s. In the late '80s, I began to move out of that field and into commercial litigation.
Q. How did that happen?
A. Part of it was propinquity. We had problems with commercial clients, and I was an experienced litigator. I began handling those kinds of cases, and particularly in the late '80s and early '90s I began representing automobile franchises. In 1989 I brought a case on behalf of a Manchester auto dealer name Dick Nault against American Honda Motor Company, which resulted in the exposure of a nationwide bribery scheme that resulted in numerous executives going to jail.
It took almost 10 years of my career because litigation began all over the country. Dealers contacted me. We brought suit in a lot of jurisdictions, and I ended up as liaison counsel in what is called multidistrict litigation in Baltimore. The case was settled for $330 million in 1999 on behalf of the small-business man plaintiff dealers.
Other than that, I did substantial litigation in other fields through the '90s and early 2000s. I just began doing a lot of commercial litigation with a lot of different kinds of clients. I did securities work. Basically, I ran the gauntlet of commercial litigation that lawyers do.
Q. You defended Dennis Kozlowski at Tyco in civil litigation.
A. I was local counsel for Mr. Kozlowski. The Wall Street lawyers with their expertise in securities were really in charge of the defense of that case. I was providing them with information about how our court dealt with things.
Q. That was federal court.
A. Right. One of the impetuses for this court is that a lot of business litigation is in federal court. The federal courts aren't really designed to deal with state business disputes. I think everyone would be happier if those cases would be resolved in state courts
Q. Now let's move to your vision of the business court.
A. Often businesspeople see the legal system as an impediment, and it isn't until they realize that they have a legal problem. Most thoughtful businesspeople recognize that a good functional legal system is essential to a good economic climate.
In other words, you can't invest in a place like Russia or Venezuela because you don't know if you make a contract with somebody that it will be enforced. You don't know that the courts will uphold agreements. That is absolutely essential. What is most important to businesspeople is predictability. They need to know they can bring a claim on behalf of themselves and there will be a resolution in a timely fashion.
The goal of the business court is to serve business people. It's really twofold. It is to enhance the economic climate of the state and give businesspeople something I think they need: a forum where their cases can be resolved.
It is not special justice or better justice for businesspeople. The cases are in the system anyway, and they are all over the system. Somebody who is facing criminal charges is going to get a hearing before a business case. The idea of a business court is to take care of the business litigation as well, to make sure that the whole system functions better.
Business cases are too big and too complex, and the idea of the business court and judge is that they are assigned to one person whose responsibility is to know those cases and understand those cases so they can be dealt with promptly.
Q. Did you ask for this job?
A. I'm excited about it. I've been practicing law for 30 years, always cared about public service, and this is my opportunity to give back — and I mean it. This is a chance to really do something good for the state, good for the court system.
The business court has been a tremendous success in a lot of other jurisdictions, particularly in Massachusetts. I met last month with a judge from the Massachusetts and Rhode Island business courts. They've been kind enough to give me some background and ideas about their courts and their rules. I've been incorporating them.
Q. What do you see us doing that is different from other states?
A. I think that all business courts really come at the problem the same way. You want to be able to say to businesspeople, "You can get your disputes resolved in the court without having to spend money on it." Much of business litigation is done is through arbitration and mediation. I've handled some big arbitrations, and the theory is, well, it's faster. It might be faster if the courts are really slow, but it is much more expensive because what happens is you are paying for justice. You have to pay the arbitrators. You have to pay the arbitration fees. And arbitration awards are difficult to appeal.
Our system is a common law system. The law develops because issues come up. We have new forms like LLCs. LLCs have only been around for the last few years. There is litigation over LLCs. For example, one issue came up recently is what state an LLC incorporated in New Hampshire but whose members are in Massachusetts — what state is that LLC a citizen of? If it was a corporation, it would be no question, it would be New Hampshire. Is that so for LLCs? These are issues that sometimes aren't defined by statute and need to be decided. If decisions aren't made in a public forum by a judge, then who will decide it? The law won't be as clear.
Q. How do you decide what gets in and what gets out?
A. It's based on the statute. It defines certain types of cases.
One of the things we want to do is use the best practices approach to business litigation. The courts have different obligations. They have an obligation to protect business litigants and enhance the economic viability of the state by making sure this is a good place to do business. You can do business here. You can get your contracts enforced. Your litigation can go quickly.
I have some confidence that I can model on what best practices are in other states. There are a lot of good ideas floating around. One of the things we talked about was creating electronic filing. It is going to be cheaper and faster. We are trying to create rules that will allow lawyers to take corporate designation depositions, like in federal court, which is faster and more efficient. We are trying to get rules to guide lawyers to deal with electronic discovery.
Bob Sanders can be reached at bsanders@nhbr.com.