Q&A with: Bridge construction worker Pamela Novotny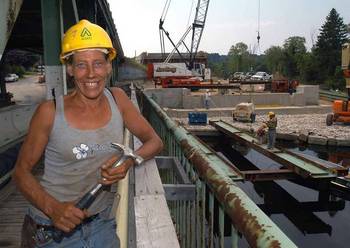 Pamela Novotny, a 44-year-old mother of three daughters, works in the highway construction industry through a state Department of Transportation On the Job Training Program funded by the Federal Highway Administration.
Novotny has been working for Audley Construction since April and has already received more than 400 hours of training in bridge construction, earning a steady salary while acquiring the skills she will need to successfully establish herself on this new career path.
The OJT program has also allowed her to realize a lifelong dream of working alongside her father, who has spent 35 years as a crane operator.
---
Q. Describe the type of work you're doing.
A. Right now I do a lot of rebar-tying and form-making. I'm also making bolts for the inside of the forms. I try to stay one step ahead of the carpenters so they're not waiting on stuff.
Q. Many people would consider bridge construction a nontraditional career path for a woman – what is it that drew you to it?
A. I love having the chance to work at something different everyday. That, and the physical work. I love being able to work outside and to really be able to use my hands and get them dirty. You really feel like you've accomplished something at the end of the day. I also get to work with my Dad – that's been great. It's brought us much closer.
Q. Are there parts of the job you find difficult?
A. There's so much to learn here. Every day we're doing something different, so it can get tough trying to take it all in. But that's also the coolest thing about this job.
Q. Being a woman in what is predominately a male industry, do you find yourself facing different challenges?
A. I'm a little self-conscious sometimes as to if I am catching on quick enough. But I've been accepted really well. People have been great and have really helped me out.
Q. Do you find yourself having to work harder to prove yourself?
A. Sure. You are tested a little – anyone new is – but it's never been a problem. I've always been a hard worker anyway, and I think people see that right away.
Q. Do you notice any big differences in the work styles of men and women when it comes to construction?
A. I think women tend to be more organized. I know I am, and I think that has helped us. For example, when I first got here bolts were just all over the place — we'd waste so much time looking for them. I've tried to keep them in order, they're all in one spot. They have a place now and we know where we can find them, that saves us time.
Q. What role do you see the program playing in your success as a bridge construction worker?
A. The program has been great. The state and Audley have been excellent to me. It's given me the chance to learn a job I really love and one that lets me make better money, which helps so much. It's a really a great industry to work in and I think more women would consider it if they knew a program like this was available.
Q. Do you have any advice for other women considering construction work?
A. I would tell them they really should do it. It's good work, it pays well and it's no different than busting your ass in a hot kitchen, you're just doing it outside. And with this type of work you're learning something different everyday. It's just great.