Q&A with: Airport Director Kevin Dillon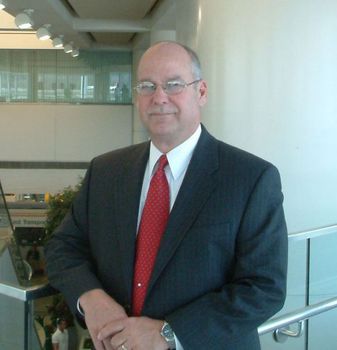 Expansion of terminal and parking facilities, lengthened runways, increased navigational aids, the widening and reconfiguration of Brown Avenue and a passenger count exceeding 4 million a year are a few of the developments that have occurred in the nearly eight years Kevin Dillon has been airport director in Manchester.
Even the name of the facility — now Manchester-Boston Regional Airport — has been changed, both to reflect and promote the facility's growing share of the region's airline passenger business.
A New York native, Dillon held managerial positions at both LaGuardia and JFK and at Boston's Logan International Airport before taking the job at Manchester in August 1999. He will be leaving in June to become deputy executive director at Orlando International Airport in Florida.
---
Q. Any mixed feelings about leaving Manchester for Orlando?
A. The city's been very good to me, and I'm always thankful for the opportunity I had here. I think there's been a lot that's been accomplished over the eight years I've been here. Certainly going to Orlando is a great opportunity. Orlando being a world-class tourist destination, a lot of the traffic is leisure traffic. But what a lot of folks don't realize is that Orlando as a city has grown considerably, and there's been quite an increase in business traffic as well. So there are a lot of exciting things happening down there.
Q. What will you miss least about being airport director here?
A. The snow.
Q. Your record at the airport on your watch is pretty well known. Is there any one thing in which you take particular pride?
A. Well, I think just overall, being able to put the airport's infrastructure in a position to allow us to move from a small-hub facility to a medium-hub facility I think is an accomplishment, and it's an accomplishment for which I give an awful lot of credit to the city.
But I think probably one of the things I'm most proud of is turning around the relationship that the airport had with the local communities. You know, when I came to the airport they were somewhat strained. There was a challenge, I think, in getting the communities to realize that we wanted to be a good neighbor and tried to be a good neighbor and I'm proud of what we've been able accomplish in terms of that relationship.
Q. What's next for the airport? What's on the drawing board?
A. I think you're going to continue to see the airport grow. There's no doubt that new airlines and new destinations are there for the future. One of the things I feel very good about is that we just participated in a study with the FAA where they anticipate between 7 and 9 million passengers per year here in the next 10 to 15 years. We're now at 4 million. So you could get a doubling of traffic by 2020.
What it shows is that during that time period Manchester Airport will continue to be the fastest-growing airport in New England
Q. So the drop in passengers last year isn't a trend?
A. Well, last year was down compared to the year before. That truly is related solely to the economics of the aviation industry. The bankruptcies that many carriers found themselves in forced them to reduce seats. The market demand is as strong as it's ever been and it's growing. The problem we had is we simply couldn't get enough airline seats to meet that demand. Now that's turning around, I'm pleased to say at this point. In fact, it was just this past month that we recovered all of those seats that we lost, so I'm expecting that you're going to see growth at the airport resume.
In addition to passenger numbers, I think what you're going to see is the airport progressing into the international arena. That's one of the things that, had I stayed here, I would have made a priority.
Q. Will that mean new runways?
A. One of the things I'm very proud of that I was able to accomplish in recent years is the infrastructure that will allow all of these things to occur in the future. We have the runway system in place, we have the terminal facility in place, we have customs and immigration at the airport, the cargo facilities — all the things that will allow the airport to continue to grow and prosper in the future.
Q. So are we pretty well done for the immediate future as far as building out the airport?
A. We are. I think what you'll see going forward are demand-driven projects. I think you'll probably see a couple of more terminal expansions, you'll probably see additional parking lots created, but outside of that, the core infrastructure that allows an airport to be an airport — appropriately sized runways, appropriate navigational aids —that's all in place at this point.
Q. What about additional landing and arrival gates?
A. We have ability to build out to 23 gates (from 14) right now. All of the permitting is done. At this point it's just a matter of when the airlines show up and when the passengers show up.
Q. So there are no target dates for that?
A. I'd say you will not see the need for an addition at the terminal for another five years. That's why from an infrastructure standpoint, from a financial standpoint, the airport is very well positioned, and I feel very good about that.
Q. A comparison of style is often made between you and your immediate predecessor here, Fred Testa. How do you see it?
A. I think in this business there's a time for everybody. You have to be the right person for the time, and I think when Fred was here, there aren't too many people who could accomplish what he accomplished.
I think you needed a person who was ready to go out there, full steam ahead. I think once things are in motion, there are different qualities that you need to bring to the table. In a lot of respects, Fred and I complemented one another in moving things along.
Q. And what qualities will be needed in your successor?
A. I think you're going to need someone who's an aviation professional, who truly understands the business, but somebody who can continue to understand the importance of community relationships. And the ability to build consensus, I think, is probably the number one quality that the city needs to find in someone.