Q&A: Learning about the CLL from Karol LaCroix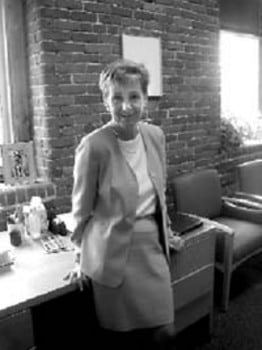 For the past eight years, Karol LaCroix was dean of the University of New Hampshire-Manchester. Earlier this summer, she became president of New Hampshire's College for Lifelong Learning after the resignation of Thomas M. Rocco.
During a recent interview at the CLL administrative office in Concord, she shared some of her thoughts on her new job and the special role the college plays in New Hampshire's education system.
Q. What persuaded you to leave UNH-Manchester to come here?
A. What made this offer very intriguing and very attractive is that I can take what I learned and what I enjoyed at UNH-Manchester, and that is providing access to folks in the greater Manchester area to public higher education, and now providing that access statewide.
Q. Your predecessor Tom Rocco left in anticipation of a decision by the university system board of trustees to merge the College for Lifelong Learning with Plymouth State University. The trustees decided not to do that, but there is some kind of restructuring going on and you're in charge of it. Would you explain what's involved?
A. I'll be working with the board of trustees and with the folks here at CLL to redefine the role of CLL within the university system and make it a stand-alone institution. What the trustees would like to do is expand the role of CLL from serving primarily adults to now also encompassing folks right out of high school who are looking to continue at college but do not necessarily want to go away or cannot afford to go away. Or who say, "Let's start at home and then transfer to Plymouth or Keene or Durham."
Q. That sounds like the mission of the community colleges.
A. Well, it is the mission of the community colleges, but they don't offer the baccalaureate program. There are some students right out of high school who plan to spend their four years within the institution that's close to their home. And the reason they end up doing that, quite honestly, in larger and larger numbers, is that so many of them do not want to graduate having those huge loans to pay off. So if there's a good, solid institution in and around their homes, and they can go there without the cost of the residential experience and maybe even work while they're going to school, they feel that's a better way for them to go.
Q. What does the College for Lifelong Learning bring to the mix of educational opportunities in New Hampshire?
A. The College for Lifelong Learning really is an important component of the university system. It's one of the four state colleges, along with UNH, Plymouth and Keene. It has 40 different locations throughout the state, Berlin and Conway, to Manchester to Newport to Portsmouth. So access is what the College for Lifelong Learning is really about and because it is a public institution, it provides both access and affordability.
Q. Why has the cost of college education risen so dramatically? Is it the bells and whistles and the "edifice complex?" Can't a student still get a good education within four walls with a desk and some textbooks, or do you need all the computers and audiovisual aids and all the rest?
A. Yes, you have the "bells and whistles" because that's what students expect and there is an educational value to that technology. As an institution, if you don't have that then you're simply not competitive. And the bottom line is, this is a business. Think about Manchester. There are 11 colleges in the city of Manchester. So you've got to have those fundamentals, and technology is a big part of those fundamentals.
Q. The College for Lifelong Learning has some distinguished alumni, including our former Department of Resources and Economic Development commissioner and current head of the Pease Development Authority, George Bald.
A. Yes, and (Concord lobbyist) Liz Murphy. Those are two who certainly come to mind. And I think the reason that happens is that so many people have advanced in their careers and just never got to finish that degree. So they're able to do that a lot more easily at CLL than they might at a traditional residential campus.
Q. Are many of your adult students people who are changing jobs or even careers?
A. Exactly. Not only is it a case of getting another degree, but it's a case of getting more course work in a particular area. People may get promoted to managerial positions who don't know how to manage. They may not know how to deal with human resource issues or balancing budgets or things of that nature. Oftentimes it's related to an internal promotion, or it may be just getting yourself to be more effective in your current position.
Q. With growth of specialization in jobs and within professions, has the value of a liberal arts education diminished?
A. I hope not. In fact, that is the critical component of the baccalaureate degree. And in many cases where you have students transfer from a community technical college, they have had a majority of prescribed courses in the general education — the philosophy, the history, the social sciences. In fact, another thing that we oftentimes see is people who are very accomplished in their professions, but who never took the time to appreciate the arts and history or whatever, so they go back to get what they call "real education."
Q. Is there room in college education for any kind of dress code?
A. I doubt it. You don't even see that much in business anymore. I think where we draw the line in either behavior or dress is, is it really interfering with the learning experience and my ability to get something out of a class because you're sitting there in something less than a bathing suit? This is where educators as well as businesspeople are able to say, "OK, these are the guidelines and you've kind of crossed them."
Q. We often hear from businesspeople that too many people entering the work force have not learned how to communicate effectively or write a coherent sentence.
A. Or to work as a team, because when you go out into the work world and you're not working by yourself in a cubicle, you've got to work with other people, you've got to be part of a process.