Project in Swanzey is a road to enterprise
Connector will open 350-acre Economic Revitalization Zone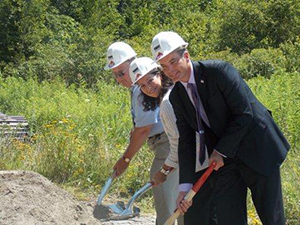 After years of setting aside funds for its construction, the town of Swanzey has finally begun work on the Safford Drive connector road after a July 21 groundbreaking.
The 2,700-foot-long, $2.4 million connector will provide east-west passage between Routes 12 and 32 and will open up for development of the Southwest NH Enterprise Zone, a 350-acre area that is a designated by the state as an Economic Revitalization Zone.
Along with the new connector, the town has unveiled a new brand and taglines for the enterprise zone, which were developed with the help of the Glen Group of North Conway.
"This is the culmination of years of work and investment by the town to make this connector possible, and it's the beginning of great things for the Southwest NH Enterprise Zone," said Sara Carbonneau, Swanzey's director of planning and community development. "The Enterprise Zone has always been part of the vision for our economic future; it's great to see it becoming a reality."
Contractor is Park Construction Corp. of Fitzwilliam. Completion date is spring 2015. The town economic development project manager is the Arnett Development Group of Concord.