Program training parents to read with children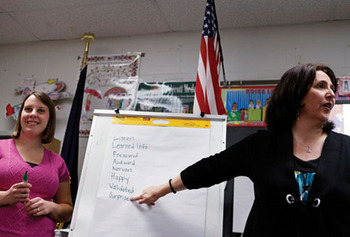 Reading from the book "If You Give a Mouse a Cookie," Karen Gerdts would stop after every few pages and ask parents to think of questions they could ask their children.
"Look for a word they might not know," she said, talking to parents in the library at Ledge Street Elementary School in Nashua on Thursday evening. "Ask them what they think it means."
The question could be as simple as asking them to count something on the page, she told the parents. You could also ask them what they think is going to happen next, she said.
"We want our children to be motivated to ask these questions, to be critical thinkers," she said.
As she continued reading, Gerdts, a director with the Parent Information Resource Center, also showed parents how to use voices to portray different kinds of emotion in the story.
Ledge Street was holding its first family reading night, a program designed to give parents tips on how to improve the way they read to their children.
Ledge Street has been working with the Concord-based Parent Information Resource Center this year, as part of its school-improvement plan.
Interactive reading is "talking, chatting, responding," Gerdts told the parents. "Having a conversation, getting to know each other."
Ledge Street is in its third year of being "in need of improvement," a designation that comes for not making enough progress on its reading scores in certain subgroups of students.
Debbie Uttero, the school's Adequate Yearly Progress facilitator, said working with the center has given the school an opportunity to examine what it is doing well, but also where improvement is needed.
The program was developed in response to a survey conducted at the beginning of the year of parents and teachers. The school also developed a committee made up of parents, teachers and administrators.
One of the biggest areas of concern was students not reading enough just for fun. Uttero said 48 families signed up for the literacy night.
One of the exercises parents took part in was meant to show the importance of listening. Parents Tony Contino and Lucia Angeles had never met before, but they paired up and were told to let the other person talk without interruption.
At first there was an awkward silence, but they eventually opened up and started talking.
"I want to improve my son's reading; that's why I'm here," Angeles told Contino.
It was then Contino's turn. He told Angeles about his five children and how it can be difficult to meet all of their needs. But he always tries to make sure to read to them, he said.
"I read to them; I'm active with them," he told Angeles.
Once the two-minute exercise was over, Gerdts challenged parents to do similar types of activities with their children, allowing them to develop story-telling and narrative skills.
"Telling stories is so valuable," Gerdts said. "It stirs their imagination. It brings words to life."
A translator was provided for Spanish-speaking parents. Another activity had parents going around the room and telling a story, with each parent adding a new line to the story.
The night began with a pizza dinner with parents and their children gathered in the school cafeteria. Uttero this was the school's first evening program focused specifically on family literacy.
In past years, the school has held pizza nights for families. Those were good, she said, but to have a program that also has an academic component is more effective.
"This is still a social event, but we also want to have a purpose," she said.
Every child and parent was able to leave the school with a new book. In the cafeteria, there were two tables covered with books, one meant for children and the other meant for their parents.
Digging through a pile of books, 5-year-old Zyniah Brinson picked out "Wake Up, Groundhog!" and brought it back to his mother Fatima.
"I came to get involved with the school and the community," said Fatima, adding that she reads every day.
Misty Brown, who came to the program with her daughter, picked out a book for herself: "The King of Torts" by John Grisham. Like Brinson, Brown said she came to be involved her child's education.
"I just wanted to see what's going on in the school," she said.
Uttero said the children's books were purchased through a Reading is Fundamental grant and the books for parents were donated to the school. There were children's books in both English and Spanish.
As parents took part in the literacy program, their children were kept busy with activities with school staff.
Each parent was given a copy of "If You Give a Mouse a Cookie," with a list of questions to use when reading with their children.
Gerdts told the parents the younger they start reading with their children, the better. There is a critical point when children are no longer learning to read and start reading to learn, she said.
More Photos?
Ledge Street is one of the most diverse schools in the city and also draws from some of the lowest-income parts of the city. One of the issues schools have to deal with, especially in low-income areas, is adult illiteracy.
Uttero said the school has offered English classes for parents, run by the Adult Learning Center, but they haven't been well attended.
Gerdts said the center has been working with several other schools in the city, including Dr. Crisp, Fairgrounds Elementary School, Fairgrounds Middle School, Amherst Street and Mount Pleasant. Dr. Crisp held its parent literacy night last month.
"The purpose is to engage parents in the academic life of their child," Gerdts said. "It helps parents to understand the value of asking good questions."
Contino said he wasn't sure what to expect of the program, but said it was valuable.
"A lot of the stuff I already do, but there was some insight," he said. "I know how to listen to them more."
Michael Brindley can be reached at 594-6426 or mbrindley@nashuatelegraph.com.