Program promotes literacy for kids – and parents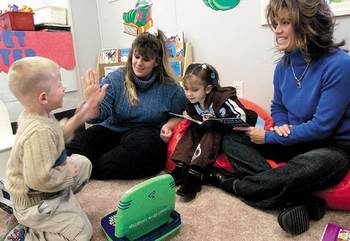 Cody Decker didn't bother to take off his puffy winter coat or set down the stack of papers in his hand. Telling his mother about his morning in preschool was the 4-year-old's top priority.
"I had a fabulous day," Cody said as he stepped through the doors of a former portable classroom with his mom, Annie Decker, and 5-year-old sister, Gabrielle. They had arrived at the home of a family literacy program called Even Start, located at Dr. Norman W. Crisp School in Nashua, where he attends preschool.
Decker asked Cody about the paper booklet in his hand. He showed her the pages of words he was learning to read. Decker sat down on the edge of a bookshelf and pulled the blond little boy onto her lap.
The Even Start staff watched as Decker asked Cody to sound out the words. They smiled as they looked on, joining Decker in praising Cody with every new word he read.
For the staff, watching the pair was not just about seeing a parent and child bond. For Kathy Olson, Denise Denver and Gail Russell, watching Decker and her son read together was proof that their program works.
Even Start is a literacy program designed to improve the reading skills of parents and children at the same time. Even Start is designed to ensure all children are equally ready to learn when they begin school. It's based on the idea that parents who advocate for their own education will advocate for the education of their children.
"This program seeks to support parents as their child's first teacher," said Olson, coordinator of Even Start in Nashua.
There are seven Even Start locations in New Hampshire and close to 1,000 nationwide. The program is federally funded with a small contribution from the state. Nashua's program is located in a portable classroom at Dr. Crisp left vacant when sixth-graders moved out of the district's elementary schools this year.
Even Start also connects parents to resources such as housing services to make sure they have the basic needs that lead to success.
To qualify for Even Start, families must be low-income and in need of literacy development. Parents and children must attend the program together.
Parents who join Even Start must make a commitment to four things: adult education, such as getting a GED; early childhood education; parenting education; and parent/child literacy.
"For people to make changes, there needs to be a lot of intensity," Olson said.
Annie Decker joined Even Start five
years ago, when she was pregnant with Cody and Gabrielle was just a baby. She was a single mother who was going through a divorce. She didn't have a high school diploma and was forced to rely on state assistance to support her children.
Decker heard about the program at the Adult Learning Center during her GED preparation class. She turned down the offer to attend the first time. But when she was introduced to the program a second time and learned a little more about what it entailed, she decided to give it a chance.
The more Decker went to Even Start, the more involved she became. The program provided childcare while she was at work or in school. It gave her opportunities to meet with other parents to discuss ways to better their lives and become self-sufficient.
Before Cody was born, Gabrielle would play in a jumping seat suspended from the doorway at Even Start, which was then located in the Adult Learning Center Annex, while Decker chatted with other parents.
When her children were a little older, Decker read books, played and did arts and crafts projects with them at Even Start. The staff encouraged her to come participate in activities with Gabrielle and Cody whenever she had time off from school or work.
Decker said, through the years, Even Start has been involved in almost every aspect of her life. The staff helped her register her car, buy winter coats for her kids and go through divorce proceedings.
The staff also taught her how to be a supportive parent, Decker said. Cody has attention deficit hyperactivity disorder, and the staff has helped her to understand his hyperactivity and set goals for him, such as being able to sit down and complete a project from start to finish.
"The Even Start program has been an excellent inspiration on my life," Decker said. "They've touched me in so many ways. They boosted my self-esteem."
When Decker finished her GED program in 2001, Russell encouraged her to further her education, so she enrolled in a computer class at the Adult Learning Center. After that, she enrolled at New Hampshire Community Technical College.
This spring, Decker will graduate with an associate's degree in human services. She plans to find a job in the community helping people in need, the way Olson, Denver and Russell helped her.
Now, Decker has long-term goals. She wants to get a full-time job and to stop relying on state assistance such as food stamps and the federal Women, Infants and Children program. She wants to buy a house in the next five to 10 years.
"I wanted to better myself and support my family," Decker said. "I want to get that good, decent job and be able to afford this stuff on my own without getting help from the state."
According to Russell, Decker's desire to better herself will, in turn, give her children a brighter future. Gabrielle and Cody will learn from their mother's example that school is important and won't think twice about whether to attend college, she said.
"It's not going to be if, it's where," Russell said.
If enthusiasm for reading is an indication that Decker is having a positive influence on her children, Russell is right.
Moments after Cody finished reading to his mother, he curled up with Decker, Denver and Gabrielle on a group of red beanbag chairs.
Gabrielle held a "Frosty the Snowman" book in her lap and began to read.
For the first time since he walked in the door that afternoon, Cody fell silent.
More Information
For more information on Even Start, call 880-3027.