Program offers women path to construction jobs
Building Pathways seeks participants for fall classes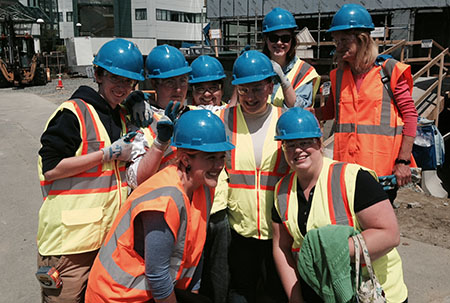 Building Pathways NH, a program designed to attract women into union construction careers, has launched recruitment of un- and under-employed New Hampshire women for its five-week, hands-on pre-apprenticeship.
The program runs from Nov. 9 to Dec. 11, and officials said they have commitments from unions to place qualified graduates in the building trades union of their choice.
To apply, participants must attend one of the information sessions, which will be held from 7 to 8:30 p.m. at the following locations:
• Wednesday, Sept. 23, Nashua Public Library, 2 Court St., Nashua
• Tuesday, Sept. 29, Dover Housing Community Room, 40 Hampshire Circle, Dover
• Thursday, Oct. 1, IBEW Local 490, 48 Airport Rd., Concord
• Monday, Oct. 5, NH AFL-CIO, 161 Londonderry Turnpike, Hooksett
• Tuesday, Oct. 6, Manchester Public Library, 405 Pine St, Manchester
• Thursday, Oct. 8, Nashua Public Library, 2 Court St, Nashua
Classes, to be held at the Carpenters Training Center in Manchester, will be conducted Monday-Friday, 7 a.m. to 3:30 p.m.
Students will get hands-on instruction in a number of trades, including carpentry, electrical work, sheet metal work and plumbing. They also will earn OSHA 10, Fall Protection and First Aid/CPR certificates.
For more information, contact Joe Gallagher, BPNH coordinator, at 603-948-8161 or buildingpathwaysnh@gmail.com.