Product of Year semifinalists named
Nine companies vie for 10th annual award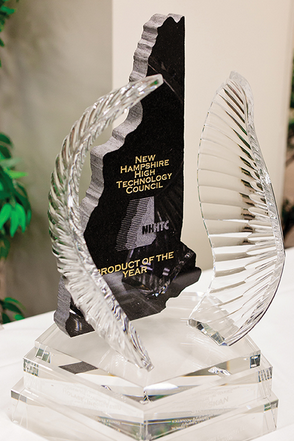 Nine semifinalists have been selected for the NH High Tech Council's 10th annual Product of the Year Award, which celebrates new or updated high-tech products developed or invented in New Hampshire in the past year.
The winner will be announced in a ceremony to be held from 5:30 to 8 p.m. Thursday, Nov. 12, at the Manchester Country Club in Bedford, New Hampshire.
The 2015 semifinalists are:
• ARC Energy's CHES500 Furnace, the world's largest automated production sapphire furnace, capable of producing single-crystal Sapphire boules, which are the largest crack-free sapphire crystals in the world and are used in LED lighting and cell phone cover glass.
• B2W Software's Maintain, an enterprise-class construction software for transportation, water, sewer, petroleum, power and telecommunications industries.
• Edge Velocity's Edge Interlock Router Suite, which delivers secure voice, video and data between stationary and fast-moving users in challenging indoor and outdoor environments.
• FreshAir Sensor's FreshAir Sensor-Plug In, which detects any airborne evidence of nicotine or marijuana and communicates immediate alerts back to the customer.
• Patient Centered Medical's The Zephyr, a respiratory suction catheter used in the more effective delivery of antibiotics in the treatment of pneumonia.
• Plexxi's The Plexxi Switch 2, a disruptive networking solution that transforms decades-old legacy network architecture with today's complex and dynamic networking needs.
• PickUpPatrol's web app of the same name, which helps schools and their parents safely and conveniently communicate changes to after school transportation.
• Rapid Insight's Rapid Insight Analytic Platform which integrates data that exists in diverse formats and in various locations and effortlessly brings them together into cloud sources.
• Retrieve Technologies' Retrieve SaaS, a platform that provides new tools to communicate more effectively in a video and mobile economy.
The nine semifinalists will be narrowed to a smaller field of finalists in the coming week. The finalists will then present their innovations to the live audience at the awards event and along the way receive advice, major product promotion and podium time in front of hundreds of entrepreneurs and tech leaders.
The first-place winner will also be featured in a display at the Interstate 93 South Welcome Center in Hooksett.
Major sponsors for the 2015 POY Awards are: Autodesk; BerryDunn; Cook, Little, Rosenblatt & Manson; Cross Insurance; Dunn Rush & Co., Dyn; Eversource, FairPoint Communications; Hanover Insurance; TD Bank; NH Business Review; and Single Digits.