ProCon expands with new office
14,870-square-foot houses architects, engineers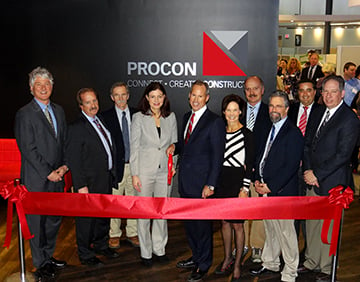 U.S. Sen. Kelly Ayotte was among those in attendance as Hooksett-based ProCon cut the ribbon on the new 14,870-square-foot office for its Architecture & Engineering Division.
ProCon designed and built the space to accommodate its team of 44 architects and engineers. The new space is designed to provide a more cohesive environment and fosters increased teamwork and creativity, officials said.
The modern industrial office environment is bright and airy, offering many areas for team collaboration. In order to allow the most natural light into the large volume of space, the ProCon designers opened both end walls with floor-to-ceiling glass and also created a clerestory window running the full length of the space, capturing southern light.
"The newly renovated space provides our team with a large open area that supports collaboration and creativity, and will allow for future growth as we continue to attract top talent," said Jim Loft, the firm's senior vice president of architecture. "The team is really enjoying their new work environment and finding the layout is especially beneficial for efficiency."
The interior of the space includes 51 individual working spaces, five conference rooms, four group collaboration areas with counter height tables and a floating staircase leading to a 2,500-square-foot second-floor mezzanine reserved for future expansion. The staircase is made from reclaimed wood from the former warehouse space and the conference tables are made from reclaimed wood from bowling alleys to create a unique environment, Loft said.