Preserving Benson's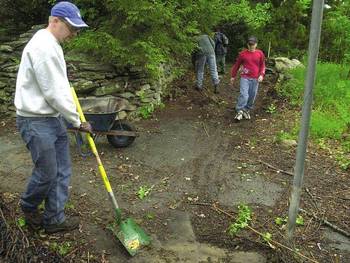 HUDSON – The town's work preserving Benson's is moving forward and getting recognition statewide.
The New Hampshire Preservation Alliance has awarded the Benson's Committee and the authors of a report on historical buildings in Benson's a stewardship and planning award.
"I'm tickled pink that we won this award," said Betsy Hahn of the Nashua Regional Planning Commission. "It shows the great effort on everyone's part."
Hahn has worked closely with the Benson's Committee.
In addition to work on clearing and cleaning trails, the Benson's Committee and town also commissioned a detailed report on the historical structures at the park such as a train depot and the Haselton Barn.
The report can be used to apply for grants and federal funding, Hahn said.
The town has already taken a number of steps the report recommended to stabilize the buildings, such as removing the cupola from the barn. Expensive ornamental tile was also removed from the train depot and stored to prevent vandalism .
The town does not own the land yet, but has a memorandum of agreement with the state that allows the town access to the property. The eventual goal is to have passive recreation (such as walking trails) on the property.
The Benson's Committee recently held its second cleanup at the park, removing overgrowth and clearing off paths. Volunteers uncovered hidden staircases and a stone wall, Hahn said.
Don's Demolition cleared a large tree that had fallen across a footbridge over Merrill Brook. A boulder had also been placed in front of the bridge, blocking access.
"There are a series of footbridges on the property," Hahn said. "This was the one in dire need of fixing."
The Board of Selectmen recently approved spending $2,239 to work on the bridge, which needs new decking and a handrail.
The selectmen also approved setting up an anti-intrusion system at the Haselton Barn.
Anne Lundregan can be reached at 594-6449 or lundregana@telegraph-nh.com.