Powers Generator knows the 'art' of its business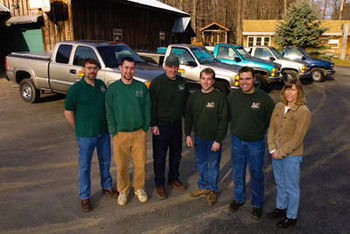 When a New Hampshire storm batters the state, you can ride it out with confidence if your home or business has a Powers Generator-installed and serviced generator.
Powers Generator Service has been selling, installing and servicing generators in New Hampshire for 10 years. While Powers is based in Cheshire County, the firm has five full-time technicians who provide rapid service anywhere in the state.
And when the winter weather gets snowy, their fleet of four-wheel-drive vehicles can make the difference between a cozy night and a cold morning, says owner Al Powers. "That's something most people don't think about. If you need emergency generator service, our technicians can get through."
Powers Generator recently expanded its service in Manchester and southern New Hampshire, increasing the firm's statewide presence.
Most generator dealerships will sell you equipment, but is it the equipment you need? Powers says, "There's a bit of an art to sizing the right generator for the needs of a particular business or home owner."
Customers must take into consideration what electrical systems and equipment are crucial to remain on when the power goes out. Powers Generator helps their customers understand generators and educates them on their options. "Obviously, you don't want a generator that's too small, but you don't want a generator that's too big either, and pay for unnecessary fuel costs," Powers points out. Selling top brands such as Kohler, Onan, Briggs & Stratton and Generac, Powers Generator will match the right unit to their clients' power needs.
Powers Generator's commitment to customer service does not end when a generator is sold. The firm has experienced, licensed electricians on staff to install your unit and keep it working in top form. "We believe we install more generators than anyone else in the state," says Powers about the excellence of his technicians.
And because the firm is a member of the Better Business Bureau, you know you are dealing with a dependable business.
For more information on how Powers Generator Service can provide you with power solutions for your home or business, call 800-853-7202.