Power, room to move top changes for '06 vehicles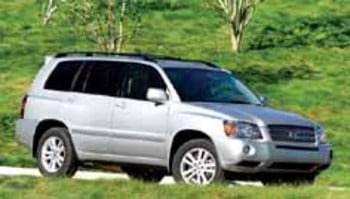 From the new-generation Honda Civic to the sporty Chevrolet Corvette, many new 2006s come to showrooms bristling with more power than ever.
The Corvette Z06 is the fastest production 'Vette in history. Its 505-horsepower, 7-liter, LS7 V8 combined with just 3,200 pounds of weight helps the two-seat coupe zip from zero to 60 mph in less than 4 seconds.
Even the economical Civic now has 197 horsepower in its Civic Si hatchback, up from 160 in the previous model.
Along with the power trend, plenty of 2006 models offer versatile seating and cargo room. Mitsubishi returns to the pickup truck market with the 2006 Raider, Subaru has its first seven-passenger vehicle in the B9 Tribeca, and Dodge creates a whole new idea of rear-seat room with its Ram Mega Cab.
A closer look at all the new vehicles, from Acura to Volvo:
ACURA
The 2006 TSX comes with refreshed styling and a 205-horsepower, 2.4-liter four-cylinder engine with i-VTEC, up from 200 horses in the '05 car. Acura's large RL sedan offers a new option package that can detect an impending frontal crash and works to lessen the impact by automatically tightening seat belts and slowing the vehicle.
AUDI
The German automaker fleshes out its models, adding manual transmission versions of its A4 sedan and Avant models with quattro all-wheel drive and 3.2-liter V6.
There's also a new front-wheel-drive A4 sedan with continuously variable transmission and 3.2-liter V6. Note that the A4 sport package is gone, replaced by the S4 sedan and Avant.
The A6 line grows this year with the addition of Avant and sedan models with the 3.2-liter V6.
BMW
The German automaker's 3-Series sedans for 2006 were early model-year introductions featuring new styling, more powerful engines, new suspension, improved rear-seat and cargo space and additional amenities. This fall, all-wheel-drive versions of the 3-Series sedans, as well as the new, 325xi all-wheel-drive wagon, arrive.
Also for 2006, BMW debuts its first M5 with V10. The new, five-passenger M5 with 5-liter V10 has 500 horsepower and a healthy 384 foot-pounds of torque, as well as sport suspension and 19-inch wheels and tires.
BMW's four-seat M6, with the M5 engine, is due out in the first half of next year.
BUICK
The revision of Buick's sedans is complete in the 2006 model year with the introduction of the new, full-size Lucerne. It's the first Buick car with V8 power in more than a decade. (Buick has an SUV with V8.) Specifically, the 4.2-liter V8 in the top-level Lucerne produces 275 horsepower. There's also a base, 197-horsepower, 3.8-liter V6. Available with five or six seats, the front-wheel-drive Lucerne becomes the premium Buick sedan as the Park Avenue is retired.
Also, Buick's Terraza minivan offers a new, uplevel, 235-horsepower, 3.9-liter V6.
CADILLAC
The biggest car at Cadillac, the full-size DeVille, is restyled and renamed for 2006.
The new DTS has a front end that resembles the edgy styling of other Cadillacs, while the rear is streamlined and formal. There also are new, ergonomic seats, new interior and upgraded suspension tuning. Buyers continue to choose between two versions of a 4.6-liter Northstar V8 offering horsepower of up to 291.
CHEVROLET
A new, retro-styled, tall wagon called the 2006 HHR is dramatically designed with styling cues from the 1949 Chevrolet Suburban. But this is no SUV. The five-passenger HHR is front-wheel-drive and rather compact in size, has modern amenities such as an iPod integrator, and is offered with 143- and 172-horsepower, Ecotec four-cylinder engines.
Performance is the news for the 2006 Corvette, too, as the Z06 coupe returns with race-bred suspension, lightweight body and 505-horsepower, 7-liter V8.
CHRYSLER
The PT Cruiser is updated for 2006 with a new interior and a 230-horsepower, 2.4-liter, high output, turbocharged, four-cylinder engine. Previous peak horsepower was 220.
DODGE
Get ready for a really big truck. The new Dodge Ram Mega Cab has the largest pickup cab ever. Twenty more inches of cab length over a four-door Ram Quad Cab help provide 145.2 cubic feet of interior space. And it's put to good use, with the Mega Cab featuring the first reclining rear seats in a regular production pickup truck. Indeed, there's a full 44.2 inches of rear-seat legroom, more than what's inside a Maybach, limo-sized sedan. Power comes from a gasoline, 345-horsepower, 5.7-liter, Hemi V8 or 325-horsepower, 5.9-liter, high output turbocharged, Cummins inline six-cylinder diesel.
FORD
A second Ford sedan joins the mid-size family car segment in 2006. The five-passenger Fusion has new, rather formal-looking styling and two engines. Its 160-horsepower, 2.3-liter, Duratec four cylinder can be had with a five-speed manual or automatic transmission, while the uplevel, 210-horsepower, 3-liter, Duratec V6 is paired with a six-speed automatic. The front-wheel-drive Fusion also will be offered with all-wheel drive in fall 2006.
GMC
The full-size Savana van has more power for 2006, thanks to a new, 250-horsepower, 6.6-liter, Duramax, turbo-diesel V8.
GMC also has two new, lower-priced, base models of the Sierra Crew Cab pickup. The Sierra 1500 SL Crew Cabs are available with two- or four-wheel drive. Starting manufacturers suggested retail price, including destination charge, is less than $29,000. The Sierra line also adds an extended cab with short-length pickup bed for 2006.
HONDA
The new model year brings a new, eighth-generation, Honda Civic small car. Sold as a coupe and sedan, the 2006 Civic rides on a new platform, has new styling and new, four-cylinder powertrains that are more efficient and more powerful than their predecessors. For the first time, a Civic—the sporty Si coupe—has nearly 200 horsepower, up from 160 horsepower as a 2005 model.
And the gas-electric Civic Hybrid is more thrifty with fuel than it was in 2005, with an estimated 51-mpg rating for combined city/highway driving. All 2006 Civics also come standard with active front head restraints and side curtain airbags for the first time.
HYUNDAI
The five-passenger Sonata sedan is bigger, inside and out, than its predecessor and is styled with a more upscale look. Two engines—a 162-horsepower, 2.4-liter four cylinder and a 235-horsepower, 3.3-liter V6—have more power than the Sonata engines they replace.
Hyundai's most expensive sedan, the XG350, is gone, replaced in 2006 by the new Azera. This large, luxury-appointed sedan has a 3.8-liter V6 capable of some 265 horsepower, up from the 194 horses in the XG350. The Azera also has the same standard safety features that the Sonata has, plus rear seat-mounted side airbags.
INFINITI
The newest model, the 2006 Infiniti M, has been out since February as a mid-size sedan positioned between the G35 sedan and the flagship Q45. The M has a choice of engines: a 280-horsepower, 3.5-liter V6 and a 335-horsepower, 4.5-liter V8.
JAGUAR
The British automaker is boosting horsepower on S-Type and XJ cars that have 4.7-liter V8s. Horsepower rises to 300 in sedans with naturally aspirated V8s and to 400 with supercharged V8s. Sirius satellite radio is available now across the full Jaguar line, and chrome mesh grilles become standard front-end decor. But the big news — Jaguar's revamped, sexy XK coupe — doesn't come until calendar 2006.
JEEP
For the first time, a Jeep has three rows of seats and can carry seven passengers. The 2006 Jeep Commander, 2 inches longer than the Grand Cherokee, is a four-wheel-drive SUV that can be had with amenities including dual "skylights" of tinted glass above the second-row seats and a power sunroof over the front-row seats. There are three engine choices: a 210-horsepower, 3.7-liter V6; 235-horsepower, 4.7-liter V8; and 330-horsepower, 5.7-liter Hemi V8. The V8 includes a multi-displacement system that can automatically deactivate some engine cylinders to reduce gasoline consumption in certain driving situations.
KIA
For the first time, the front-wheel-drive Rio has six standard airbags, including curtain airbags, which are a rarity in the low-priced, subcompact car segment. There's new styling, a longer wheelbase and wider track for improved handling and ride, an upgraded interior with increased passenger room, and a new, 110-horsepower, 1.6-liter, four-cylinder engine with variable valve timing.
LAND ROVER
Land Rover adds an SUV with performance like that found in sporty cars. The Range Rover Sport has a sport-tuned suspension and an uplevel, supercharged, 4.2-liter V8 capable of 390 horsepower and 410 foot-pound of torque at 4,000 rpm. This sporty, five-passenger SUV rides on the biggest standard wheels ever on a factory Range Rover — 20-inchers — and for spirited driving, the vehicle's computer-controlled anti-roll senses cornering forces and works to optimize body control and handling. But with permanent four-wheel drive, height-adjustable air suspension and good ground clearance, the Range Rover Sport can go off-road, too.
LEXUS
Toyota's luxury brand became the first in the world to offer a luxury, gas-electric hybrid SUV with the early-introduction 2006 Lexus RX 400h. With the comfort and convenience features of a typical RX, the RX 400h combines a 3.3-liter V6 with a high-torque, electric drive motor-generator and a rear electric drive motor-generator for all-wheel-drive applications. Peak horsepower is 268 — more than a gas-only RX 330 — while emissions are reduced. In addition, the hybrid has faster acceleration and a better fuel economy rating: 29 mpg in combined city/highway driving. It's also the highest-priced RX ever, with a starting manufacturers suggested retail price, including destination charge, of more than $49,000.
LINCOLN
Zephyr was the name of a lower-priced luxury car introduced by Lincoln in 1936 for new Lincoln buyers. The name returns in 2006 on a new five-passenger, mid-size sedan that's also intended for buyers who haven't bought a Lincoln before. The Zephyr has Lincoln's waterfall grille in front and light-emitting diode (LED) taillamps. The interior has premium highlights, such as a large swath of matte silver trim around the center dashboard controls and LED cabin lighting. The car is powered by a 210-horsepower, 3-liter, Duratec V6.
MAZDA
The automaker adds the Mazda5, the smallest vehicle to be sold in the United States with second-row sliding doors. Powered by a 157-horsepower, 2.3-liter four cylinder, the Mazda5 is more compact in size than a minivan, looks like a cross between a tall wagon and a van, and has six seats arranged in three rows.
MERCEDES-BENZ
Mercedes introduces a six-passenger vehicle with three rows of seats. The well-appointed R-Class isn't a minivan, though. It's not an SUV, either. It's more like a long wagon that sits up some from the road and has all-wheel drive. Power choices for the R-Class are a 268-horsepower, 3.5-liter V6 and a 302-horsepower, 5-liter V8. Both are mated to an automatic tranny that has more gears — seven — than do most passenger car transmissions.
MERCURY
Mercury's compact SUV, the Mariner, adds a gas-electric hybrid version. Based on the five-passenger Ford Escape Hybrid, the Mariner Hybrid is expected to be one of the most fuel-efficient sport utilities on the road, with a combined city/highway rating of some 31 mpg. It's powered by a 2.3-liter, Duratec four cylinder augmented by an electric motor-generator. Peak horsepower is 155, and the Mariner Hybrid comes standard with all-wheel drive.
MITSUBISHI
Mitsubishi's 2006 Raider mid-size pickup truck is based on the Dodge Dakota but has styling all its own. The Raider also is the only import-badged, mid-size pickup that offers a V8. Specifically, it's available with a 230-horsepower, 4.7-liter V8 as well as a 210-horsepower, 3.7-liter V6. Torque is the real differentiator, with the V8 providing 290 foot-pounds of torque at 3,600 rpm vs. 235 in the V6. The Raider is available in extended and double cab bodies and with or without four-wheel drive.
NISSAN
Nissan vehicles get mild updates for 2006. The 350Z with six-speed manual transmission and 3.5-liter V6 now has 300 horsepower, but automatic tranny models remain at 287 horsepower. Front and rear styling updates also are made on the Z as well as on the Murano crossover vehicle.
PONTIAC
The first two-seat convertible at Pontiac since 1940 debuts as the 2006 Solstice. Already a darling of auto shows, the rear-wheel-drive Solstice is an eye-catching roadster with a wide track and 170-horsepower, 2.4-liter, four-cylinder Ecotec engine. Best of all, starting MSRP, including destination charge, is $19,995 for a manual transmission model.
PORSCHE
The maker of famous German sports cars debuts a new hardtop model based on the Boxster. The new, two-passenger Porsche Cayman is a sports coupe positioned between the 911 Carrera and the Boxster S. Starting price is just under $60,000, and power comes from a revised, six-cylinder, boxer engine used by the Boxster. But in the Cayman, the power plant displaces 3.4 liters and generates 295 horsepower.
SAAB
For the first time in its history, Swedish carmaker Saab has an SUV.
The 2006 Saab 9-7X is based on the mid-size Chevrolet TrailBlazer but has front styling that's all Saab. The five-passenger 9-7X comes with automatic all-wheel drive and a choice of engines: a 290-horsepower, 4.2-liter, inline six cylinder, or a 300-horsepower, 5.3-liter V8. The V8 includes displacement-on-demand technology that disables some engine cylinders during certain driving situations, thus improving fuel economy by up to 5 percent.
SATURN
Saturn's minivan, the Relay, adds a more powerful V6 for 2006. The new, 235-horsepower, 3.9-liter V6 is an alternative to the Relay's base, 201-horsepower, 3.5-liter V6. Meantime, the Sky, a sibling of the Pontiac Solstice roadster, will be released as a 2007 model in the first half of next year. Pricing hasn't been announced, but the Sky is expected to have a higher starting price than the Solstice.
SUBARU
Subaru is debuting its largest crossover SUV yet — the 2006 B9 Tribeca is the first Subaru to offer seven-passenger seating. While it's based on the platform of the Subaru Outback, the Tribeca is longer, wider, taller and heavier than the Outback. Power comes from a 250-horsepower, 3-liter, boxer, six-cylinder engine. But the Tribeca doesn't look like any current Subaru. A new face that's intended to recall Subaru's heritage as a maker of aircraft highlights the front, and the all-wheel-drive Tribeca's profile is more akin to that of a Lexus RX 330.
SUZUKI
With updated, clean styling, more safety features, and new unibody construction with built-in ladder frame rather than the old body-on-frame structure, the 2006 Grand Vitara now looks modern and travels with new sophistication. It's still a five-passenger compact SUV available with or without four-wheel drive. But it's now a bit wider and longer than its predecessor, and power comes from a standard, 2.7-liter V6 that has 185 horsepower, compared with last year's 165 horses.
TOYOTA
In the 2006 model year, Toyota adds a second gas-electric hybrid vehicle. Available with two- and four-wheel drive, the 2006 Highlander Hybrid uses the same 268-horsepower hybrid system with 3.3-liter V6 that's in the Lexus RX 400h SUV. But with a starting price of $33,595, including destination charge, the less luxuriously appointed Highlander Hybrid is also some $15,000 less than the Lexus. Fuel economy, typically a priority for hybrid buyers, is rated at 33 miles a gallon in the city and 28 mpg on the highway for a two-wheel drive Highlander Hybrid. That's higher than even a four-cylinder, gas-only Highlander.
VOLKSWAGEN
Available with a 200-horsepower, turbocharged four cylinder and a 280-horsepower, 3.6-liter VR6, the 2006 Passat has 2.4 more inches of rear-seat legroom. And with a starting price, including destination charge, expected around $23,000, the Passat promises to remain the most affordable German mid-size sedan on the market. A Passat wagon also will join the 2006 lineup later in the model year.
VOLVO
With the deletion of its naturally aspirated engine from the lineup, the Volvo S60 comes only with turbocharged engines for 2006. There's also an improved all-wheel-drive system offered for the S60 as well as S80, XC70, XC90 and R models.
Shoppers must wait until calendar 2006 to check out the new-generation C70 convertible. It comes with a retractable hardtop, rather than the fabric top on the earlier C70.
Ann M. Job has covered the auto industry for more than 20 years and is test driver for the Associated Press.