Portsmouth's first, and last, farm sold for $963k
Area family buys landmark 1810 Hett Farm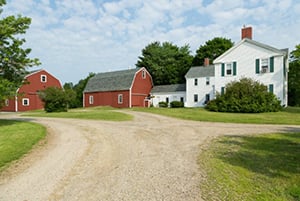 A Portsmouth family became new owners of the 1810 Hett Farm, considered the first and last working farm in the city.
According to the Portsmouth Herald, the property, which includes 39 acres of land, sold for $963,000 during a July 30 auction and the sale became final on Monday.
Justin Conway, auction manager for Paul McInnis Inc., handled the sale. He told the newspaper, "The buyer and seller are both very happy," said Conway, but he cited privacy concerns and would not yet identify the new owners.
The farm had been in the Hett family since 1940 when John Hett bought it at auction.
The auctioneer told the Herald all but two acres of the property are in a conservation easement, so "there's really not a development opportunity there."
The city assessing department appraises the property at $1.17 million, according to the newspaper.