Portsmouth pilot trades his wings for wheels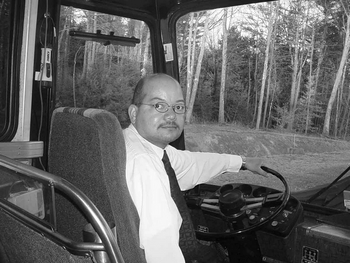 It may come as a surprise to many people, but an airline pilot's attention to detail and grace under pressure are the same qualities a good bus driver must have. And that's exactly what Eric Robinson says he is bringing to the public with his Falcon Bus Lines, the Portsmouth-based charter bus company he opened last September.
"The connection between aviation and buses is not too big a leap," said Robinson, a former airline pilot. "The experience in the transportation industry, the fact that people are depending on you, safety issues — they are all the same."
Robinson is a self-proclaimed stress junkie. He's also meticulous when it comes to safety. These two admissions come into play with his decades-long career as pilot and bus driver.
The 49-year-old Portsmouth resident began his career in the transportation industry when he obtained his pilot's license when he was just 19.
"I drove buses right after I left college. Back in those days, they didn't pay young pilots that much, so I drove buses to supplement my income," said Robinson.
He flew with the now-defunct Eastern Airlines for a number of years, then as a pilot for corporate and charter jets, or "600-mile-an-hour limousines," as he calls them, flying the "rich and famous," including former President Bill Clinton shortly after he left office.
A pilot often has to think on his or her feet, but in the case of crossing over into the bus industry, Robinson was thinking on his back.
"I got the idea for starting the bus line almost literally waking up one morning and asking myself, 'What can I do?'"
The obvious opportunity would have been to start a charter plane company, but planes, costing millions of dollars, were cost-prohibitive. Buses were a much more affordable option.
"In my experience, airline owners spend most of their time keeping the investors happy. In this case, I'm the only investor," he said.
Even though he admits transportation is his forte, his penchant for entrepreneurship could be as well. In addition to Falcon Bus Line, Robinson also runs his own aviation safety consulting firm and is retooling an existing charter airline brokerage company he owns to be more aligned with his bus line.
The savvy thinking of a pilot is not the only thing Robinson is bringing to his bus line from the aviation industry — he's also bringing seat belts.
Although federal regulations do not stipulate buses have seat belts, Robinson said he wants to have them available for passengers.
Another area of aviation safety Robinson is importing is continuous training.
"In aviation, pilots have to go back to practice on simulators every six months. In buses, there is no requirement for driver retraining," Robinson said. "I will be implementing safety briefings every couple of months where the drivers can talk about safety issues. I am teaching my drivers to approach their jobs like they were in aviation."
While the beverage cart is not moved down the aisle once the bus has reached cruising speed, Dennis Amon, a naval science instructor at Dover High School's ROTC program, said a recent trip he took on Falcon Bus Lines with 20 students and three chaperones to the Maine Maritime Academy in Castine, Maine, was "outstanding" and "very comfortable."
Robinson not only owns the bus line, but he's also a driver, a job he did for Amon's group. "Eric is very intelligent and interactive. He was very prompt and extremely accommodating when we reached the academy, asking us where we were walking, where we wanted to be picked up."
The experience was so good, Amon will be traveling with Falcon Bus Line again on an upcoming trip.
The high level of customer service is no accident. According to Robinson, he and his six employees spend much of their time precisely planning trips so they don't get lost. And while the buses do have GPS systems, they are used only for back up. "GPS is not going to tell you that the Jersey barriers have been moved, say, around the Big Dig.
"I was taught as a young pilot — and I'm teaching this to my drivers — the trip should be totally uneventful. There should be no excitement," he said.
For now, Falcon Bus Line runs strictly as a charter service, with the fleet's two 49-passenger buses costing approximately $700 to $850 per day. A third 55-passenger bus will be added in the coming months, said Robinson.
Falcon also offers a half-day rate at about 60 percent of the full-day rate, something Robinson said is fairly rare in the industry.
Robinson said he hopes to expand the service to include scheduled runs from Portsmouth to commuter destinations. "I need further state and local approval for scheduled runs. I have to go through cities and towns, and need approval from every city council and the state Department of Transportation."
He said he doesn't anticipate too many issues because he feels his service is something towns want. "Most towns will welcome it because they want public transportation, and they want to be connected to other cities," said Robinson.