Portsmouth pet tech company expands product line with acquisition
Wagz acquires Smart Pet's Link AKC smart collar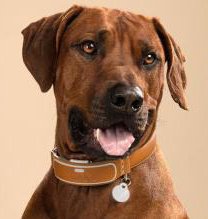 Wagz Inc., a Portsmouth-based company with high-tech pet products including a smart collar and automated food dish with biometric analytics, recently announced the acquisition of Smart Pet LLC's Link AKC smart collar.
Wagz has been aggressively developing and launching high-tech pet products, while investing in acquisitions that fit its family of connected pet home products. Beyond the product, as part of the acquisition, Wagz will also gain six new employees and appoint Heberto Calves as chief growth officer of Wagz.
"Wagz has amazing momentum and we just took another big step forward in our efforts to deliver a fully connected pet lifestyle," said Terry Anderton, CEO of Wagz, Inc. "The technical experience and brand growth at Link AKC is a powerful addition to the Wagz family. We look forward to integrating Link AKC into the Wagz ecosystem as we fulfill our vision of making it easier for pet parents to better understand their best friends and provide the best life for them."
"Smart Pet is committed to the health and well-being of every dog," said Dennis Sprung, president and CEO of Smart Pet. "The acquisition by Wagz will help improve the bond between dogs and owners through enhancements in pet technology."
Smart Pet officially launched the Link AKC smart collar and app in May 2017, and soon after became a leading player in the rapidly growing pet technology market. CES recognized the smart collar as a 2017 "Best of Innovation."
The announcement marks the second acquisition of the summer for a Wagz brand that is breaking new ground in developing the first connected line of pet products. Wagz acquired pet treat dispenser pioneer Petzila in June.