Portsmouth-based company expands global presence with acquisition
Loftware, Inc., an enterprise labeling solutions company, has acquired U.K.-based Gap Systems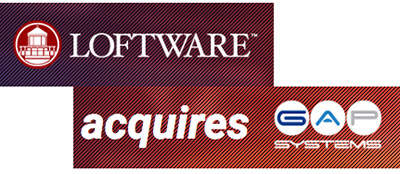 Loftware, Inc., a Portsmouth-based manufacturer of enterprise labeling solutions has acquired Gap Systems, a provider of SaaS (software as a service) based artwork management solutions headquartered in the United Kingdom.
The acquisition further expands Loftware's global presence. The New Hampshire company already has over 5,000 customers in 100 countries
With Gap Systems, Loftware will offer a new cloud-based digital platform with solutions that redefine how enterprises create, manage and print complex labeling and packaging artwork, and scale across their operations.
Loftware addresses a complete range of customer and regulatory mandates by producing mission-critical barcode labels and documents across the supply chain, while Gap Systems controls complex packaging artwork processes throughout the product lifecycle. Together they will uniquely address the full spectrum of labeling and packaging artwork requirements across a broad range of industries with a special focus on pharmaceutical, medical device, manufacturing, food and beverage, chemical, retail and consumer packaged goods. The combined platform—whether used for labeling, artwork management or both— will enable customers to improve time to market, mitigate risk, reduce supply chain complexity, optimize costs and increase agility, according to Loftware's press release.
"Several years ago, Loftware pioneered the Enterprise Labeling market by recognizing the need to focus on complex, high volume labeling for large organizations. Now we are transforming the Label and Artwork Management space by delivering this unprecedented platform," commented Loftware President and CEO, Robert O'Connor, Jr. "Our customers and the market will greatly benefit from our strategic vision, broader and deeper solutions, global scale and continued world-class services and support," he added.
"Loftware and Gap offer truly complementary solutions that the market needs, especially as companies look to standardize on a single platform that can create, manage and print labels and packaging artwork across worldwide operations," stated Gap Systems Founder and CEO, Paul Goldberg. "Now internal and external stakeholders in packaging, regulatory, quality, operations, manufacturing, supply chain and marketing can address a more extensive set of requirements," he added.
Loftware is hosting a webinar on March 22 at 11 a.m. featuring Robert O'Connor Jr, who will discuss the acquisition and how combined Loftware and Gap Systems solutions will fundamentally transform the Enterprise Labeling and Artwork Management market.