Port City Makerspace gives crafters, tinkerers and techies a place to create
The new rules for crafters, hackers and tinkerers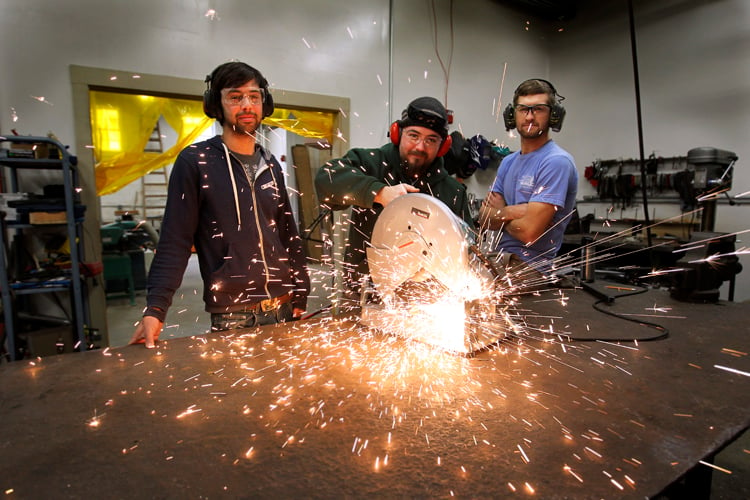 Tanya Hakala of Dover has always been crafty and interested in DIY projects, but she's been limited to using small hand tools and other supplies that she can store in her home. She doesn't have the space in her house for, say, an embroidery machine. Not many people do.
But these days, she's not only got access to an embroidery machine but also to a spinning wheel, a loom, and even power tools, thanks to Port City Makerspace in Portsmouth.
"The Makerspace opens up an entire woodshop and metal shop," Hakala says. "I welded for the first time."
A "Makerspace," or "hackerspace," is a place where members can share and store tools, have a workspace and collaborate with each other on projects ranging from woodworking to electronics to weaving.
"We're a community workshop," says Clint Crosbie, who opened Port City Makerspace in August 2012 with Ross Beane and Zak Robinson. "We work under a similar model as gyms where you pay a monthly membership to come in and use the equipment."
There is, however, a crucial difference between the two business models: Gym members don't bring their own treadmills to store, use, and share, whereas Makerspace members often bring their own equipment and allow other members to use it, too, sometimes in exchange for membership.
It's that spirit of sharing and collaboration that makes the makerspace concept so interesting, and increasingly so popular.
For years, Crosbie, Beane and Robinson toyed with the idea of having a communal workspace.
"We didn't necessarily want to have a garage where we paid rent to keep our stuff," Crosbie says. "We wanted to have a bigger community around us as well."
So they started researching and reading about hackerspaces in other cities and realized "this is completely plausible," says Crosbie. Now Port City Makerspace runs as a nonprofit with the goal of being a "benefit to the local community," he says.
Not only is the concept plausible and available on the New Hampshire Seacoast, it's successful. In August, about one year after opening, Port City Makerspace had about 30 members, attracting people from the local arts and tech communities.
Among them is Jeff Gunn of Stratham, who says he's excited that the hackerspace concept is moving out of urban and university settings and into less densely populated places like the New Hampshire Seacoast. And he adds that hackerspaces aren't just for engineers or tech geeks, either.
"Here at Port City Makerspace, we get a real broad cross-section of the population," Gunn says. "Either the movement has grown or it has evolved in such a way that it offers something to pretty much anybody anywhere."
It offers classes, which are open to members and nonmembers, in disciplines like woodworking, metalworking, bike maintenance, machine embroidery and 3D printing. And as its membership grows, the selection of tools and breadth of skills available to members is always growing, too.
Among the resources available in the Makerspace are an electronics lab with such tools as soldering equipment, wire strippers, precision screwdrivers and 3D printers; a woodshop with a surface planer, table saw, chop saw, bench sander, band saw, lathe, drill press and tools; a metal shop with welders, a plasma cutter, bench grinder and bridge mill; and a bike shop with a full complement of bike tools.
But it's not just the tools that make the space; it's the people.
"Really what we're building is the community itself," Crosbie says.
In fact, the true spirit of a makerspace is one of collaboration that goes far beyond borrowing equipment and sharing a workshop. Makerspace members work together in a wide range of ways, tapping each other for information and ideas, learning from one another and sharing skills, collaborating on projects, and pushing each other to succeed.
For instance, Crosbie says he's seen a woodworker, metalworker, roboticist and artist all working together on a project.
"They find themselves all interested in the same things but in different capacities," he says.
Ross Beane holds a product made on the 3D printer, in background, at Port City Makerspace. (PHOTO BY CHERYL SENTER)
Gunn says he joined Port City Makerspace for that very reason.
"I was looking for access to better tools, but also people to collaborate with on projects," he says. "I'm always interested in learning new things. Collaboration isn't just working with somebody else to necessarily accomplish a goal, but it's also about sharing knowledge."
For instance, he points to a young Makerspace member who wanted to use the 3D printer to print custom wheels for remote control cars, but didn't know how. Gunn has been working a lot on the 3D printers, so he offered to work with the other member on the project, teaching him how to design custom wheels and tires. In return, Gunn learned all about remote-control cars.
It was "two people who brought something to the project and then brought that project to completion," Gunn says. He's now also teaching a 3D printer class at the Makerspace.
Hakala says that she's not only gotten access to tools but to people who can teach her how to use them.
"There were things I wanted to build, and I didn't have the tools for them or necessarily the knowledge," she says.
Crosbie says people not only work together on projects, but they're also there to offer guidance and sometimes even a bit of cheerleading.
"Oftentimes people will have a really good idea and they won't know where to start. Or they know where to start or they just need a little bit of encouragement," Crosbie says. "They need someone to say, 'You can totally do this, and no, this idea's not stupid.'"
With that spirit of encouragement and innovation in the air, makerspaces like this one have the potential to become incubators for great ideas, like modern, techie versions of literary salons.
"It's great when you're trying to figure something out, bouncing ideas off of people, and even when you finish something to say, 'Look what I just did,'" Hakala says. "It's great to be around that creative energy."
For more information, visit portcitymakerspace.com.