Popzup wins Seacoast Start-Up Competition
Dover company wins $30,000 in cash, prizes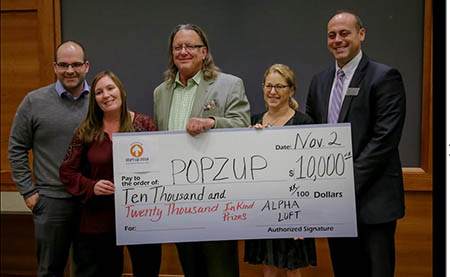 Popzup, a Dover-based company with a line of non-GMO and gluten-free popcorn products, has won the Rochester Department of Economic Development's fourth annual Seacoast Start-Up Competition.
The company against four other Rochester area startups as in a "Shark Tank"-style event designed to celebrate entrepreneurship and offer exposure local startup businesses.
As winner, Popzup was awarded $10,000 in cash and about $20,000 in in-kind prizes, including six months of rent in the Gonic Mills, business coaching by Epiphany Consulting and a media package from iHeart Radio.
Julie and Marty Lapham founded Popzup in November 2015 as a company that offers an alternative to conventional microwavable popcorn.
Winner of the People's Choice Award for the competition was Rochester-based Trigger Devil, which produces trigger stops for video game controllers, enabling gamers to shoot two times faster when playing first-person shooter games.
Other finalists were Hive Battery, GeoQuiz, and Awato.