Plymouth State's Boyd Science Center shows how adaptive reuse is done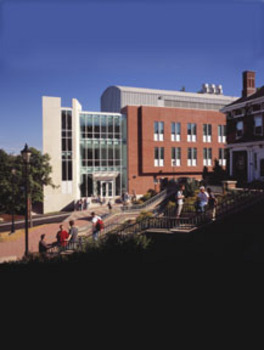 Plymouth State University's recently renovated and expanded Boyd Science Center has been chosen as an example of an exceptional adaptive reuse project and is featured as one of six such buildings in a new coffee table book, "Boomer Buildings: Mid-Century Architecture Reborn."
The book, put together by the New York firm of Mitchell/Giurgola Architects presents case studies of the six adaptive reuse projects involving buildings that are more than a generation old. The firm headed up the Boyd redesign.
The six case studies present in detail how each project was analyzed, from its energy use to its mechanical, electrical and plumbing systems and structural stability. In each case, the result is a reborn building created for a fraction of the cost and consuming far fewer materials than a new facility built from scratch, according to the authors.
In the book, Mitchell/Giurgola documents "a new, more sustainable approach to design and construction that builds on the past and makes the old better than new."
The architects worked closely with each client to determine how their original building could be salvaged by incorporating updated program elements to serve a new generation of users. They suffered from outdated heating and ventilation systems, poor and inefficient lighting, drafty exterior walls, asbestos or other toxic materials, and a general lack of usability for 21st century purposes. Many of the buildings expanded in size, with a transparent melding of the old and new.
Boyd Science Center, a project of the University System of New Hampshire's KEEP NH initiative, reopened in fall 2004 after a renovation of 54,400 square feet and an addition of 35,600 square feet.
Architect Steven M. Goldberg, a partner at Mitchell/Giurgola said the redesign "not only transformed an obsolescent science building into an exciting state-of-the art facility, but also the southern end of the campus into a new quad with science in the foreground."
Mitchell/Giurgola received an Honor Award for Excellence in Architecture from the American Association of Architects New Hampshire chapter for the design.
"Boomer Buildings: Mid-Century Architecture Reborn" was published in Australia by The Images Publishing Group and is available through books@images.com.