Plymouth-based company adds a touch of winter year-round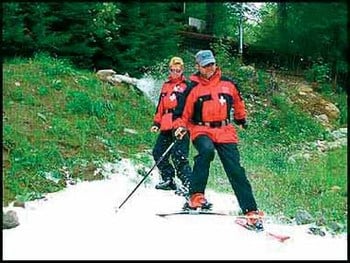 An all-temperature snowmaking system that debuted at Tenney Mountain Ski Area in Plymouth last year has been trucked to the Gulf of Mexico, has given Alabama a taste of snow-tubing and has possibly lured a few people into visiting New Hampshire for future skiing.
But Tenney's owners say the SnowMagic system, which produced some much-publicized warm-weather snowboarding in 2003, will return once some construction and repair work is finished at the ski area.
"We still plan to do temperature-independent snowmaking here," said Albert Bronander, president of SnowMagic Entertainment Industries and of Tenney, which was bought by SnowMagic in 2002. "Whether that unit returns or we bring another one in, that has to be determined."
The snowmaking took place at Henry Aaron Field, a minor-league baseball diamond in Mobile, Ala., where a "Snow Park" was opened for tubing and "snow play" to draw winter-sports novices.
"There will be people coming in and seeing snow for the first time," Bronander noted. "We're bringing the mountain to the masses."
Making snow in Alabama isn't as crazy as it sounds. A SnowMagic system twice the size of Tenney's – capable of creating up to 100 tons of snow per day – is being used to create an indoor snow-sport facility in Saudi Arabia, and a Tenney-sized unit is creating an outdoor facility near snow-less London.
Closer to home, the Tenney system created fake snow in September that was taken down to the Trump Taj Mahal Casino just off the beach in Atlantic City, N.J., for an indoor snowboarding event during the week of the Miss America pageant.
In Japan, where the system originated, it is used for a number of indoor and outdoor facilities.
Traditional snowmaking involves shooting lots of water droplets into cold air so it freezes into an artificial snow. This process can't happen without temperatures around the freezing point and a certain humidity level: If it's too cold or too warm, too dry or too rainy, it founders. SnowMagic, by contrast, creates the artificial snow inside a large refrigerated unit and then shoots it outside, freeing it from weather constraints – although, obviously, the snow doesn't last as long in summer weather. It also uses patented methods to adjust snowflake size for changing conditions.
SnowMagic uses a system called Infinite Crystal Snowmaking that was developed in Japan. SnowMagic owns the patents in the United States and Europe.
It's expensive – units cost up to $1 million – and takes a lot of energy, but has been eyed as a way to expand the whole snow-sports universe, both to warmer parts of the calendar and warmer parts of the globe.