Plymouth awarded $5.55 million for water and sewer infrastructure upgrades
More grants are expected to help with cost of $17.6 million project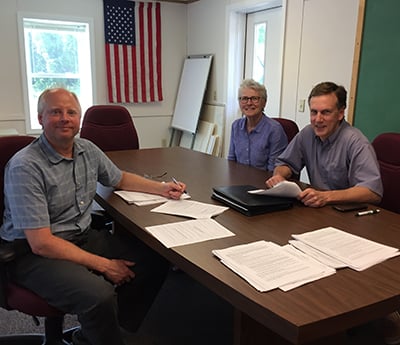 The Plymouth Village Water and Sewer District was recently awarded $5.55 million in funding for eight water and sewer infrastructure improvement projects through the USDA Rural Development Water & Waste Disposal Loan and Grant Program.
The award totals $3.45 million in grant funding for sewer improvements and $2.1 million for water improvements. The money will significantly subsidize engineering and construction costs of the upgrade projects, minimizing the financial impact to user rates, says a press release from the District.
For more than four years, the District has been working with Wright-Pierce, an engineering firm with offices in Manchester and Portsmouth, to evaluate the infrastructure, some of which dates back to the early 1900s and has exceeded its useful life. Plymouth has undergone significant and sustained growth since the installation of the original infrastructure and upsizing is necessary to meet current and future needs, says the District.
The process began with an evaluation of the District's aging sewer and water lines, water supply, pump stations and wastewater treatment infrastructure. Reports prioritized necessary improvements including their anticipated costs.
Through a collaborative effort between the District and Wright-Pierce, eight projects were identified as priority projects totaling approximately $17.6 million in total project costs; approximately $9.6 million in sewer improvements and $8 million in water improvements. The projects include Main Street water and sewer replacement (from Campton town line to Warren Street), Bayley Ave and Langdon Park Road water and sewer replacement, development of a new water source in Holderness, Holderness water main extension including a new booster pump station, a generator replacement at the Foster Street well pump station, septage receiving improvements at the wastewater treatment facility, wastewater pump station No. 1 improvements, and the final phase of the pump station No. 4 sewer force main replacement. Voters approved the bond issues at the March Annual Meeting.
Commission Chair Chris Woods was pleased, "This is a huge benefit for the residents of Plymouth and will help us address urgently needed upgrades to our aging water and sewer infrastructure. The Commission appreciates the support and confidence of the voters in approving this year's multiple bond issues. Our long-term planning approach was key to obtaining this funding."
The design phase for the majority of the projects will begin in the fall of 2018 with construction of the projects anticipated for the 2019-2020 construction season. Construction for Bayley Ave, Langdon Park Road, and pump station No. 1 is scheduled to begin in 2018.
District Commissioners are optimistic about additional grant funding and principle forgiveness for the infrastructure upgrades as they await funding decisions from New Hampshire Department of Environmental Services Clean Water State Revolving Loan Fund, Drinking Water State Revolving Loan Fund and New Hampshire Drinking Water and Groundwater Trust Fund programs, according to a press release.