Playtime in Wilton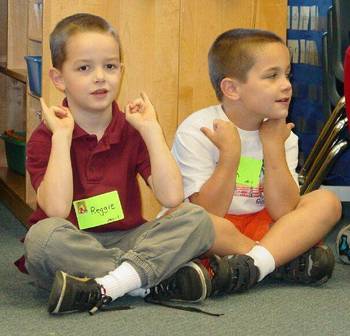 WILTON – Florence Rideout Elementary School needs a new playground, and various groups have been raising money since June. On Nov. 5 and 6, volunteers will install the equipment that has been purchased so far.
With that in mind, students in kindergarten through second grade took part in the Worldwide Day of Play on Saturday, part of a grant program sponsored by Nickelodeon. The program is designed to draw attention to the importance of play on an international scale by encouraging people "to get up, get out, and go play."
Nickelodeon will award five grants ranging from $5,000 to $10,000.
The school plans to use any award it receives to complete the playground.
"You have to demonstrate you value play," kindergarten teacher Sydney Conti said of the program. "We have a new behavior program, and we will be talking about behavior on the playground.
"We chose cooperative games with no winning or losing, mixing in kindergarten through second grade. It really was fun."
The children spent the morning playing games both inside and outside the building. They learned the cha-cha, played several games with a brightly striped parachute, and also played games such as red light and octopus tag. Other dances and crafts were also included.
The grant application is due by Nov. 1.
In the meantime, fund raising will continue, including a recent spaghetti supper. There are collection jars at several local businesses, and the school has received an offer from a local real estate office to match the money collected up to $1,000.
The current playground at the school is 18 years old and needs replacing, Conti said.
"Community support has been awesome," she said.