Plan NH hands out Merit Awards
Four projects recognized for smart growth, collaboration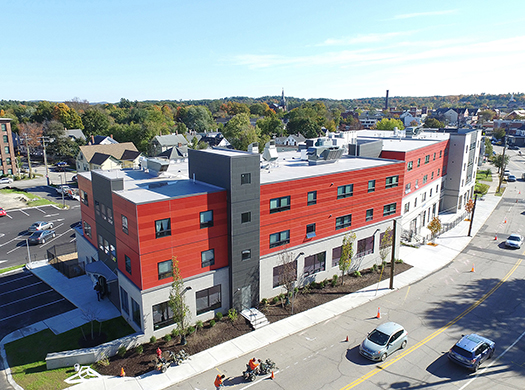 Plan NH recognized four significant projects during its annual Merit Awards ceremony, held June 20 at the Capital Commons building in Concord.
The projects were selected from a field of nominations by a jury of professionals in the planning, design and development industries.
The awards honor building projects that embody smart growth principles, social responsibility and outstanding cooperation or collaboration.
Receiving awards were:
Gilford Village Knolls III
The project is the third building in a multi-unit apartment development for adults age 62 and older. This section has 24 units, all one-bedroom, and each rent-restricted at price points residents can afford.
Owner: Lakes Region Community Developers
Key players:
Gilford Village Knolls Trustees
Stewart Associates Architects
Steven J. Smith Associates
Martini Northern
Sheehan Phinney Bass & Green
Stewart Property Management
DEAP Energy
Concord City-Wide Community Center
The building is on the site of the former Dame School, which was partly demolished and other parts repurposed to create
a wonderful community center for people of all ages.
Owner: City of Concord
Key Players:
Milestone Engineering and Construction
The HL Turner Group
Downtown Concord Complete Streets
The reconstruction of Concord's North and South Main streets has transforme
d the city's downtown.
Owner: City of Concord
Key Players:
Severino Trucking
McFarland-Johnson
Louis Karno & Company
Bradley Commons, Dover
The project is a 61,000-square-foot mixed-use building where a Catholic church once stood
Owner: The Housing Partnership
Key Players:
Lassel Architects
Pine Brook Construction
Ambit Engineering
JSN Associates
Petersen Engineering
Woodburn and Associates, Landscape Architects