Pine State Elevator to update lift in Concord's Kennedy Building
Major contract awarded by Concord Housing + Redevelopment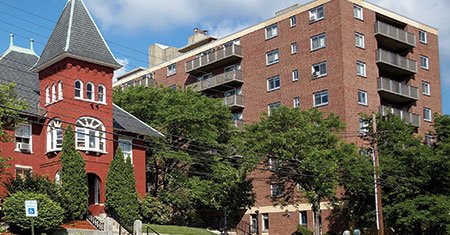 As significant renovations begin at Concord's Kennedy Building, Maine-based Pine State Elevator, Co. has been awarded a $200,000 contract to update and modernize the building's half-century old lift.
The elevator was built and installed in 1965. Workers from Pine State will be using the entire original machine, including the gears that turn the shifts and cables – as well as the original sling. The work will also include the addition of numerous safety features, the installation of microprocessor controls, and bringing the elevator up to current ADA compliance.
"This is an exciting project," said Travis McDuffie, Pine State's service manager. "It's always fun to take an old elevator and make it as new as it can be. New elevators are very cookie cutter. You send in the dimensions and get back a big silver box. The elevator in the Kennedy Building will be a challenge to update. But we are thrilled that Concord Housing + Redevelopment is saving a piece of the building's history."
Once the elevator is restructured and installed it will be more efficient and faster. Residents will notice that it comes to their floors quicker, saving wait times for them and the building's employees. New doors will open faster and will be equipped with infrared scanners to stop the doors if need be. The elevator will be updated with all American made parts.
The Kennedy Building is located at One Thompson Street in Concord. The elevator project is one part of a $500,000 renovation project on the building. Other projects include: replacing the heating system, bringing the entrances to modern accessibility standards, and improving a common space for residents. The Kennedy Building was built in 1964 and has 88 units.
Concord Housing + Redevelopment is a catalyst for community wide economic growth and revitalization, while providing developers with resources for redevelopment. The organization also helps individuals and families in the Greater Concord area find a place to call home.