Pignatelli breaks 40-year Republican run in District 5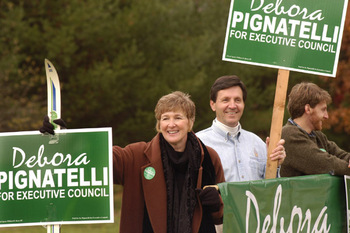 Debora Pignatelli became the first Democrat in 40 years to hold the District 5 seat on the Executive Council, and extended her unblemished election record, by hitting home with lots of people in lots of different places.
"It is clear I received a large number of votes from Republicans and independents as well as Democrats," Pignatelli said Wednesday morning from her Nashua home. "I think that I worked very hard throughout this campaign to get into the towns in the district, so they got to know me as a person."
Pignatelli, 56, who has 15 years experience as a state representative and state senator in Nashua, did well in virtually the entire district as she unseated two-term Councilor David Wheeler. District 5 covers much of southern New Hampshire, stretching from Nashua past Keene to the Connecticut River.
Pignatelli captured not only the Democrat strongholds of Nashua, Keene and Peterborough, but even took Wheeler's hometown of Milford. Perhaps most importantly, she did comparatively well in GOP strongholds like Goffstown and Merrimack, losing by narrower margins than other Democrats in recent elections.
"We won Goffstown by 1,500 (votes), but it should have been 2,500," Wheeler said Wednesday from his Milford home. "I think it was just a pretty Democrat year, with the governor losing and Bush losing. That does trickle down. . . . It was a tough day for conservative Republicans across the state."
Wheeler noted that Election Day was "bittersweet" for him because his eldest son, 20-year-old James, won re-election to the House of Representatives from Milford and Amherst. Two years ago, James Wheeler became the youngest state representative in New Hampshire history.
Like Pignatelli, Wheeler, 45, has also been a state representative and state senator. Until Tuesday, he had lost only one election in two decades.
Wheeler had no immediate plans Wednesday, but it seems unlikely he won't try returning to the political ring. "I'm not going to throw my signs away," he joked.Keene, where Heed is popular. Pignatelli won Keene by a 2-to-1 margin, but such margins are not uncommon for Democrats in that city.
However, neither candidate said the election hinged on any specific issue.
In comments Wednesday, Pignatelli was critical of what she called Wheeler's negative campaigning. Wheeler is known for sending lots of hard-hitting mailings to voters.
"I can't tell you how happy I am that voters saw through many deceptive mailings against me," she said. "Obviously, I am not radical and anti-family, and all the other bad things I was called. The voters deserve a lot of credit for ignoring these attacks.
"I am proud to be the first Democrat to win this seat since 1964, but more importantly, to return a moderate voice from this district to the council," she said.
Wheeler was elected to the seat in 2000 after Bernie Streeter stepped down after becoming mayor of Nashua. Streeter had held the seat almost uninterrupted for a quarter century.