Physicians, health care providers asked to follow CDC guidelines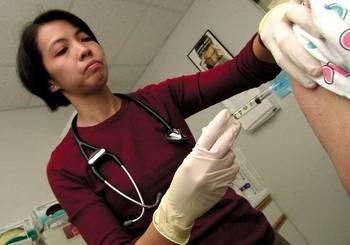 What a difference a day makes.
On Monday, Lucy Saia, director of home care for Home Health and Hospice Care, didn't give a second thought to flu vaccine. But on Tuesday, an announcement from the federal government about a national shortage suddenly put her on shaky footing.
The news – which traveled quickly – was this: nearly half of the nation's supply of flu vaccine won't be available this winter, because the British government has suspended the manufacturing license of the American company making the drug there. As a result, many people accustomed to getting the seasonal protection may have to defer this year.
"In late August, I was assured (by the state) that we would get it, and this morning someone called and said we won't get it for our adult population," Saia said Wednesday.The timing could not have been worse.
October is the month when doctors and other health care providers begin administering flu shots, first targeting the oldest and youngest patients, those with chronic diseases, and the health care providers who have direct patient contact. But it's also a time when many who aren't very young or very old, don't work with sick people, and aren't chronically ill, opt to be vaccinated just in case.
Dr. William Kassler, the state medical director, said health officials are asking people to consider the guidelines issued by the Centers for Disease Control so those most at risk for complications from the flu can get the vaccine.
Kassler said the state ordered half of its flu vaccine supply through the Chiron Corp., the U.S. firm making the drug in England, and the remainder through the other major manufacturer, Aventis. The drug is also produced in a nasal spray vaccine made by MedImmune.
"We're doing what we can to get as much vaccine," Kassler said. "We're in daily contact with the CDC."
But fewer than 24 hours after the secretary of health and human services announced the shortage at a news conference in Washington, Kassler said he didn't know how the situation would be resolved.
"We have to recognize it's a national issue, events are unfolding," he said.
He said patients at risk for complications – infants and young children, the elderly, and those with chronic diseases – should contact their physicians to ask about getting immunized. Healthy adults 64 or younger who have had the flu shot in the past should defer to save the limited vaccine for those at high risk, he added.
In addition, he said, the state is asking physicians and other health care providers to follow CDC guidelines that prioritize patients by age and medical status, and also recommending that health care providers in direct contact with patients receive protection.
While New Hampshire ordered half of its flu vaccine from Chiron and half from Aventis, Kassler said other states ordered all of their vaccine from Chiron. But Kassler did not know Wednesday if the state would receive its full order from Aventis.
Some observers have suggested that the federal government may redistribute the available vaccine to cover as many high-risk patients as possible.
"As policies are made, we'll do what we can to make use of supplies," Kassler said.
But the medical director could not say more about how the shortage could affect state residents.
"It's too premature to give reassurance or raise the alarm," Kassler said.
Meanwhile, Kassler is reminding the public to practice basic hygiene: frequent hand washing, staying home from work or school when ill, and covering the nose and mouth while coughing or sneezing.
"We have a culture where if you're sick, you go to work, putting fellow workers, classmates, at risk of infection," he said, urging anyone with a cold or flu to "stay home."
On Wednesday afternoon, Dr. Linda Sheldon, an internal medicine physician affiliated with St. Joseph Hospital, said word of the shortage was so new she hadn't had occasion to discuss it with patients.
"Probably, it will lead to rationing," said Sheldon, speculating that the CDC will revise its priority list.
But callers to the New Hampshire Hospital Association were being told the shortage doesn't signify a crisis.
"We expect all the high-risk population will be covered," said Andrea Alley, communications director.
Alley said scheduled flu clinics aren't likely to take place given the unexpected turn of circumstances.
"Physicians and hospitals have to reevaluate," she said.
At least one Nashua pediatric practice called patients Wednesday to cancel scheduled flu shots.
Nashua's Division of Public Health and Community Services had 11 public flu clinics planned for October and November, but has put all of them on hold for now, said Stefan Russakow, the director of the division.
"We're waiting to see what vaccine is allocated to us," he said.
Jan Larmouth, director of infection control at Southern New Hampshire Medical Center, said she was still adjusting to the news, which she received while attending a professional meeting Tuesday.
"Houston, we have a problem," she said the speaker announced, interrupting the presentation.
Larmouth said announcement of the shortage left officials and health care providers with a number of unanswered questions.
"As of today, I honestly don't know," she said. "As time goes on, the situation could change."
Dr. Kenneth Dolkart, a geriatrician who practices at the Center for Healthy Aging, affiliated with Southern New Hampshire Medical Center, said the timing troubled him.
"It's disconcerting that the vaccine is now unavailable from Chiron at just the time when it is most necessary," Dolkart wrote in an e-mail. "Hopefully, there will be adequate supplies."
The physician said the vaccine should be limited to those at highest risk for complications or death from the flu, adding that for others, antiviral medications may be used to shorten the duration of the flu and prevent its spread to family members.
FOR MORE INFORMATION
– Centers for Disease Control: www.cdc.gov/flu
– State Department of Health and Human Services: www.dhhs.nh.gov
– State information line: 1-866-273-6453
– Nashua Division of Public Health and Community Services information line: 1-866-752-0535