Physician revives forgotten practice of house calls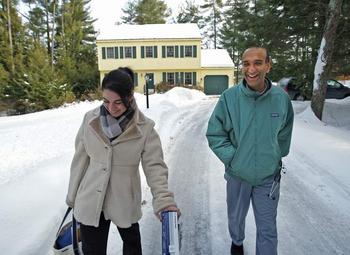 Dorothy McQuarrie felt right at home during her last checkup. That's because physician Sanjay Patel examined the 95-year-old in her Litchfield house. Patel spent about 30 minutes checking McQuarrie's vital signs, reviewing her medication and inquiring about her health in the comfort of her living room. McQuarrie rested on a couch as she detailed her daily routine and explained her reluctance to use a walker.
McQuarrie was "surprised" that Patel and nurse Erica Raffa rang her doorbell on a morning in late January. Then again, most people would be shocked to see their doctor making a house call.
It is, after all, a practice of a bygone era: a physician carrying a black medicine bag into a household to tend to a sick patient or help deliver a baby.
Nowadays, doctors have patients visit them. Patients wait their turns as physicians shuffle from examining room to examining room for typically brief consultations.
"It's more corporate medicine now," Patel said of the steady stream of patients.
"You have to maintain an income."
Doctors and patients complain about the logistics of modern health care, but with the system likely not changing soon, a house call will continue to seem as outdated as an analog thermometer.
But Patel decided to break the mold and spent two days recently visiting 10 elderly and infirm patients who otherwise would have been unable to travel to his office at Hudson Family Practice, a partner of Dartmouth-Hitchcock Medical Center.
The 10 patients are checked by nurses and home health-care specialists frequently, but reading those reports still doesn't give Patel a full sense of their conditions, he said.
For instance, by seeing McQuarrie in person, he judged that she had little swelling in her legs.
Her breathing also seemed fine – enough so that she had decided to wean herself off an oxygen tank. Still, Patel advised her to use the apparatus when she slept and worked outside her home.
Fitted with an earring and dressed in a white shirt and gray slacks, Patel kneeled before McQuarrie. He slowly inquired about her daily schedule and why she rarely uses a walker. It snags on the carpet, she said.
As a television broadcasted a Catholic Mass in the background, Raffa also checked McQuarrie's blood pressure and temperature.
"Are you still independent?" Raffa asked.
"You bet," McQuarrie replied.
For the record, Patel didn't carry a black medicine bag. Raffa, wearing a nurse's shirt and comfortable pink shoes, carried a tote bag full of medical supplies.
Patel said he has made house calls before but only for a few patients and on an inconsistent basis. He'll probably do another round later this year, he said.
Patel isn't the only doctor making house calls, but he's certainly in the minority. A smattering of practices across the country offer to visit patients' homes, making the personal service the selling point of their work.
And this month the Internet service American Well started connecting Hawaiian doctors to patients. But these house calls were more virtual: entirely through webcam.
Patel sees about 18 patients a day in his office. House calls, though, aren't as cost effective, he said. Between travel and the time spent in a home, Patel was able to see no more than five patients on a recent Friday morning.
Still, he was grateful Dartmouth-Hitchcock allowed him to go door to door.
"We're here not to treat them as numbers. We should be treating them as people. This what it's all about," Patel said.
Charles McIlveen agreed. Driving from one specialist's office to another – with trips to the Veteran's Hospital in between – the Hudson resident was glad to see Patel and Raffa stop by his home.
McIlveen settled into a kitchen chair and recounted the latest round in his fight against cancer.
He tired often, and sometimes forgot things.
Patel told him the medication would affect memory.
He added that it was OK to crush his vitamin pill if it seemed too big to swallow, and because McIlveen's pain was stable, Patel would not change his medication.
As with McQuarrie, McIlveen seemed relaxed. Patel had put them at ease, asking questions slowly while getting a sense of their home environments and family support systems.
People's lifestyles affect their health, so it was helpful for him to observe how these two patients live, Patel said in McIlveen's driveway after the examination.
And with that, Patel and Raffa jumped into his wife's sports car and drove to the next house.