Pheasant Lane Mall to get new look and new stores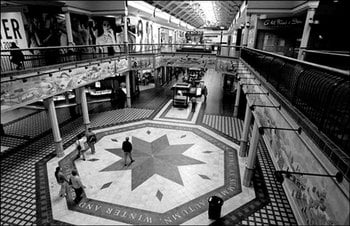 The Pheasant Lane Mall in Nashua is about to undergo its largest renovation to date in hopes of attracting the type of high-end stores found at the Burlington Mall in Massachusetts, manager Vincent Cosco said.
"We're really trying to upgrade the tenant mix, and to do that, we need to give ourselves a facelift," Cosco said. "It's a great property. It's a beautiful location. But it's tired," Cosco said of the 21-year-old mall, owned by Simon Property Group.
Pheasant Lane was upgraded once since it opened in 1986, Cosco said. The interior color scheme was redone in the '90s after the teal and salmon colors that were popular in the '80s went out of fashion, he said.
Possible improvements include refinishing the interior and exterior and reworking the "vertical configuration" – how patrons get from one floor to another – Cosco said. To accomplish this, another escalator may be added or the elevators redone.
The mall is in a period of transition because about 20 store leases expire this year, Cosco said. Some of the old tenants are leaving, new tenants are coming in and some of those staying are expanding, he said.
The International Council of Shopping Centers estimates malls renovate or expand an average of every seven to 10 years, spokeswoman Patrice Duker said. Renovations include anything from major overhauls to small changes in lighting or the look of a common area, she said.
A number of factors drive renovation, including market competition or a major change in tenants that allows the owners to rethink what they want the mall to be, Duker said.
Owners also may just want to modernize, as the style of malls has changed over the years, Duker said. Shopping centers in the 1970s were much darker; now it's popular for a mall to have natural light, an open feel and be pedestrian friendly, she said.
According to Duker, it's no surprise Pheasant Lane is looking to bring in more upscale tenants as part of the renovation. That is a trend in the shopping mall industry, she said.
"The luxury segment of the industry has performed extremely well over the last three years," Duker said. "There's been a move toward those higher-end retailers because they've proved to be the most recessionary-proof."
Stores that are scheduled to open this year, or have recently opened, include Coach, which is under construction, and Hollister, which is opening this summer.
Most recently opened are The Walking Company and Sketchers.
Cosco said mall management is negotiating with a "key" high-end women's clothing store, but he declined to name the store because the deal hasn't been finalized.
– ASHLEY SMITH
THE TELEGRAPH