Personal expression or pushing the envelope?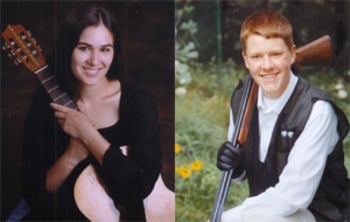 Guitars and guns have high school administrators across Southern New Hampshire scratching their heads over what is appropriate for display in high school senior portraits.
Ongoing questions about two area seniors posing with props in yearbook portraits have a few schools considering their own senior photo policies, or lack thereof.
This month, Hollis/Brookline High School administrators told senior Jess d'Arbonne that a professionally done photo of her posing with her guitar was inappropriate for publication in the yearbook because it was too "non-traditional."
In Londonderry, a student was not allowed to pose with a shotgun in the senior section of the yearbook.
Policies vary between schools so much that what is acceptable at one school might not be allowable at another. In both the Londonderry and the Hollis/Brookline incidents, students were unclear as to their school's yearbook photo policy.
But one thing is clear: Schools want their yearbooks to look a certain way, even if it means denying what some students consider their constitutional right to express themselves. Representatives of the New Hampshire Civil Liberties Union have said in recent days that they consider the subject a First Amendment issue.
D'Arbonne, who is a member of the all-girl band the Cindy Loo Whos, said she posed with the 60-year-old guitar because everyone at school knows her "as the girl with the old guitar." D'Arbonne said the school's rejection was unfair because students were never provided with a definition of "non-traditional."
A letter that went out on Aug. 13 from the school notified
parents that, "Non-traditional portraits will be subject to review and may not be accepted." But by then, the d'Arbonnes had already arranged and paid for the photographs.
In September, the story of Londonderry High School senior Blake Douglass became public knowledge after school officials rejected a portrait of him with his shotgun for inclusion in the senior photo section. Douglass, an avid trap and skeet shooter, is shown in the photo wearing a trap shooter's vest and gloves and a button-down shirt.
If the Douglass family and their lawyer pursue a legal case, it may soon be up to the federal courts to determine whether Douglass has a right under the First and Second amendments to have his photo published.
Different guidelines
Souhegan High School Principal Ted Hall said his school had no formal yearbook policy prior to the situation at Londonderry High. Last week the Souhegan Cooperative School Board approved a formal policy that spells out the administration's expectations.
"We saw what happened in Londonderry and figured it was time to get clear about what had always been clear in our heads," Hall said Thursday.
Before now, Hall said the only guidelines were, "The photo had to be appropriate."
The way Hall sees it, if an activity is not allowed in school, it should not be allowed in a senior photo.
The Souhegan High School community follows a set of guidelines referred to as the "Souhegan Six," which helps students know what kind of behaviors are not appropriate, Hall explained.
"We don't have a dress code," Hall said, "but students know a drug or alcohol T-shirt would be inappropriate."
A copy of the new guidelines, which were approved by the board Thursday night, said, "Clothing, props (including but not limited to display of firearms, other weapons, drugs, tobacco or alcohol) and gestures etc. that are not appropriate in school are not appropriate for publication in the yearbook."
Hall said d'Arbonne's photo would have been acceptable at Souhegan because many students play instruments, take music classes at the school and are involved in bands.
Yet, the Londonderry photo would not be allowed because guns are not allowed in school.
The policy states school officials are the final authority for the content of the yearbook, yet they will take suggestions before, during and after publication.
Prior to the guidelines, Hall said the school had never rejected a senior photo to his knowledge.
"In some ways, it's a question of how uniform you want the photos to be," Hall said.
Uniform or unique?
Whether schools want the senior photos to be "uniform," is something parents and students should know ahead of time, according to photographer Genevieve Perron of Amherst. Perron took d'Arbonne's original senior photo.
"Are we going to go back to the draped velour (for girls' portraits) and men in button-down shirts?" she asked. "To take away the choice to represent who you are – I don't think is right."
Perron has been a family photographer for 20 years. She said she works with all of her customers to make sure their personality shines through. Perron said she has been photographing many of her clients since they were toddlers. She spent time talking to d'Arbonne and her mother during the photo session to make the photos as unique as possible.
D'Arbonne "plays a beautiful guitar," Perron said. "I asked, 'What are you looking to pull away from this?' She played and sang and told me a little bit about the band, and I said, 'This is who you are.' "
Perron takes senior photos for students from as near as Nashua, Merrimack and Milford and as far away as Massachusetts. She said she has never had a senior photo rejected before this year.
"There are boundaries. There are rules," she said. "But this was not clear. They changed the rules after kids had their pictures taken and parents had spent money on them."
In both the Londonderry and Hollis/Brookline situations, administrators offered to include the senior's preferred photos in another section of the yearbook.
"If (Londonderry) would include (Douglass') photo in a sports section," Perron said, "why wouldn't they include it in the senior section?"
A school's history
Kara Whitman, assistant yearbook adviser for Nashua High School South, said no student photos have been rejected this year or last year. But Whitman also said no students have submitted photos of themselves with props.
Linda Williams, the head yearbook adviser at Nashua High School South, said students are "encouraged not to pose with props because the yearbook becomes a part of the school's history and archives."
Williams said she thinks having a prop in a photograph takes away from the person pictured.
Michael Clemons, a member of the Nashua Board of Education and assistant principal of Manchester Central High School, said Central hasn't had any recent controversy over photos, either. Seniors at Central don't submit photos with props, but not because of any policy, he said.
"Every school board has a right to make their policy," Clemons said. "(Douglass) wasn't asking to take the gun to school, he was asking to use a photo of a hobby. I probably would have voted to let him sit with the gun."
Clemons said the Londonderry story might have an affect on schools across the state.
"I think we may see this cropping up more because of Londonderry," he said. "There may be some rules that are more appropriate for some settings than others."
Ron Cote has been the yearbook adviser at Bishop Guertin High School for three years. At Bishop Guertin, where students are required to wear uniforms to school, the only requirement for the senior photo is that it be a standard wallet-size photo, he said.
Bishop Guertin has never had a student submit a photo with a gun, but said seniors often submit photos showing them holding footballs or with their athletic jersey hanging behind them, Cote said.
Perron said students should be allowed that kind of freedom.
"How much more traditional can you get than a headshot with a guitar? That was a perfectly good representation of who (d'Arbonne) is," she said. "It was not derogatory in any sense. Maybe we're taking this a little too far or anticipating too much trouble."