People and Property: Real Estate and Construction News Rundown
RiverWalk Resort set to open, acquisition creates Civilworks New England … and more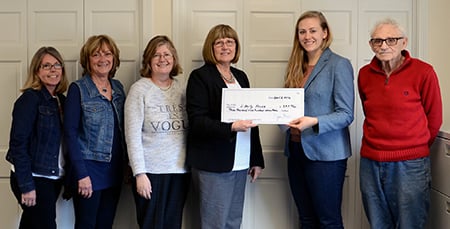 The NH Liquor Commission will open a new stand-alone 12,000-square-foot NH Liquor & Wine Outlet on Route 104 in Bristol on Thursday, April 28.
During the past four years, NHLC has relocated or renovated 21 stores around the state, and construction is underway on two 15,000-square-foot outlets, one in Southgate Plaza on Lafayette Road in Seabrook and another on Nashua Road in Londonderry. Work is also underway on a new 9,000-square-foot store in the new Riverside Landing development on Ridge View Lane in Plymouth that will take the place of the existing Tenney Mountain Highway location.
Eversource Energy, Chinburg Builders of Newmarket and GDS Associates of Manchester, have been named 2016 Energy Star Partners of the Year by the U.S. Environmental Protection Agency.
Eversource won the 2016 Energy Start Partner of the Year-Sustained Excellence Award. Chinburg was named a 2016 Partner of the Year in the New Home Construction category. And GDS was named the Energy Star Home Energy Rating System Rater of the Year. The HERS system is used to assess energy efficiency.
With the opening planned for May 2016 in Lincoln, New Hampshire, RiverWalk Resort at Loon Mountain's phase 1 of development is nearing completion.
The first phase consists of the first 79 of the total 170 proposed luxury suites in a seven-story structure, the tallest building north of Concord.
Construction of Phase 2 is slated to start construction in 2017.
Raymond-based Jewett Construction Co. has been recognized as a 2015 High Performance Builder by Kansas City, Mo.-based Butler Manufacturing. Jewett is as an official Butler Builder for southern New Hampshire and northern Massachusetts.
Dana C. Lynch and Paul J. Connolly, founders of the Dover engineering firm Civilworks Inc. have sold it to Stephen J. Haight, owner of Haight Engineering PLLC, also of Dover. Civilworks, founded in 1985, provides civil engineering and land surveying services to clients in New Hampshire, Maine and Massachusetts.
The new entity is called Civilworks New England. Lynch and Connolly will remain part of the staff
Haight Engineering was founded in 2004 and serves clients throughout New England, offering site engineering, site and roadway design, planning, permitting and construction services, among others.
The Park Theatre is opening an executive office and visitor center in anticipation of the start of construction of its new performing arts center in Jaffrey.
The executive center is housed at the 6 River St. building in Jaffrey acquired by the theater in 2011. It provides office and meeting space and serves as a space where visits can review architectural plans for the new theater, which is scheduled to open in mid-2017.
GioSpace NH LLC has purchased the 4,391-square-foot Unit 110 at 51 Webb Place in the Dover North Professional Center. Christian Stallkamp of CBRE|Portsmouth represented the seller and Andy Fleisher of NAI Norwood Group represented the buyer. Sale price was $408,363.
Newton Kershaw III, CEO of real estate investment firm Elm Grove Companies, Manchester, has been elected to serve on the Newport-based Sugar River Bancorp board of corporators. Sugar River Bancorp is the parent company of Sugar River Savings Bank.