People and Property: Real Estate and Construction News Rundown
Red Oak buys Derry apartment building, Raimer named Cityside president … and more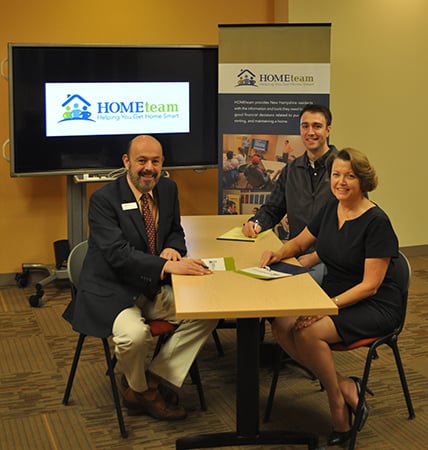 Jessica Winston, a civil project engineer in TFMoran's Portsmouth office, recently passed the CESSWI (Certified Erosion, Sediment and Stormwater Inspector) exam, which addresses all aspects of providing inspections for erosion and sediment control and stormwater compliance.
Sunrise East Apartments on East Broadway in Derry has been acquired by Red Oak Apartment Homes Inc. of Manchester. The deal for the building, which has 28 studio, one- and two-bedroom apartments, was announced by Red Oak's president, Ronald Dupont. Red Oak apartments are located in Manchester, Milford, Derry, Hooksett, Merrimack, Concord and Laconia New Hampshire.
The Seacoast Board of Realtors will host its annual charity golf tournament on Wednesday, Sept. 14, at Pease Golf Course. The tournament will feature a noontime shotgun scramble, dinner and silent auction. Registration is open at an "early-bird" fee of $114 per player or $456 per team, which includes dinner, a gift bag and a shot at Hulbert Toyota's hole-in-one vehicle give-away. Early-bird registration ends July 29.
Design firm Stantec has won two engineering excellence awards from the American Council of Engineering Companies-NH chapter. The awards, given to projects that encompass the public and private sector in a number of categories, including transportation, were presented for the Sagamore Avenue Bridge Replacement in Portsmouth and the Slayton Hill Road Reconstruction in Lebanon.
Jennifer Raimer of Loudon has been promoted to president of Cityside Management Corp., Manchester. Raimer previously served as chief operating officer and chief talent officer of the firm, which serves government and private customers in 45.
The company also announced it recently won two major contracts: a neighborhood stabilization contract covering the entire state of Rhode Island and a marketing contract with the federal government in North Carolina and South Carolina covering more than 3,000 homes.
Sean Kimmins has joined Fulcrum Associates, Amherst, as an estimator. With over 19 years of experience, he previously worked at Elaine Construction and CWC Builders, among other firms.
The New Hampshire offices of Coldwell Banker Residential Brokerage in New England has won a Platinum Award from the Cartus Broker Network for its performance during the past year. The award was presented at the 2016 Cartus Broker Network International Conference, held in Ft. Lauderdale, Fla. The office also was presented with a Cartus Five Star Award, which recognizes brokers who have met or exceeded their individual objectives for outgoing broker-to-broker referral closings during the calendar year. The Coldwell Banker Residential Brokerage New Hampshire offices are located in Amherst, Bedford, Center Harbor, Derry, Laconia, Manchester, Portsmouth and Wolfeboro.
Bethany Carignan has been hired as a Matterport 3D tour operator by Peabody & Smith Realty, Littleton. According to Chrissy Smith, the firm's vice president of sale and marketing, "Matterport 3D tours are an integral part of our marketing efforts for our clients and in terms of producing these tours, attention to detail is paramount."
DeStefano & Associates Inc., Portsmouth, recently completed interior demolition and renovation of the existing 258=seat Margaritas Restaurant in Waltham, Mass. The firm has also been selected as the construction manager for a new 7,000-square-foot Margaritas in Northborough, Mass. Construction is scheduled for completion by summer. Whitlock Architecture of Waltham, Mass., is architect and designer for both projects.
North Branch Construction will host the American Red Cross Donor Bus from 9 a.m. to 2 p.m. on Monday, April 25 at its 76 Old Turnpike Rd. headquarters in Concord.
Randolph, Maine-based Coutts Bros., an electrical construction/maintenance contractor serving energy utility clients throughout the Northeast, has been recognized by Associated Builders and Contractors with a 2015 National Safety Merit Award.