People and Property: Real Estate and Construction News Rundown
North Branch completes UNH dining hall, Stantec buys Fay, Spofford & Thorndike … and more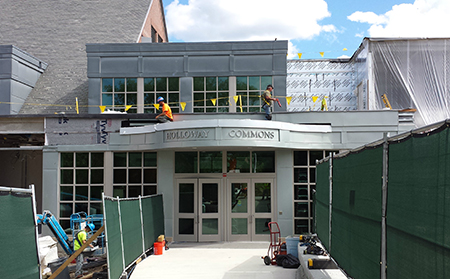 North Branch Construction recently completed nearly $6 million in renovations to the University of New Hampshire Holloway Commons Dining Hall in time for the start of the fall semester.
The complex structural steel project included the removal of roof systems over existing finished space. Other work included structural steel additions to multiple sides of the building, new HVAC systems, a new dishwashing and tray return area, a new grill area, and a new entryway. The new layout offers an improved circulation pattern.
Design for the project is provided by Miller Dyer Spears, Inc. of Boston.
Jewett Construction Company, Raymond, has completed renovations to Commonwealth Motors' Volkswagen dealership in Lawrence, Mass.
Designed by the team of O'Sullivan Architects and Summit Engineering, the project involved renovations and the construction of a new 1,100-square-foot service drive.
T.D. Thompson has been named the new director of commercial property management at Brady Sullivan Properties, Manchester. He succeeds Scott Payrits, who has been named the firm's director of commercial construction.
Thompson most recently worked at Reit Management & Research, where he ran the Newton, Mass.-based company's asset management department.
North American design firm Stantec is expanding its Northeast presence with the planned acquisition of Fay, Spofford & Thorndike, a 280-person Burlington, Mass.-based engineering, planning and environmental firm with nine offices in Bedford, NH, a well as Massachusetts, Maine, Connecticut and New York,
Stantec's current presence in New England includes 11 offices in Auburn, NH, as well as Maine, Massachusetts, Vermont, New Hampshire and Connecticut.
Jim Schwartz, client development director for Raymond-based Jewett Construction Co. has been named to the board of Directors of Rochester Main Street.
Sept. 14 is the deadline to submit a nomination for the NH Preservation Alliance's Seven to Save program, which spotlights endangered historic properties and helps attract new investment and reuse options for community landmarks.
Criteria for Seven to Save include the property's historical or architectural significance, severity of the current threat, and the extent to which the Seven to Save listing would help in preserving or protecting the property.
Typically, nominated properties are owned by nonprofits, municipalities or commercial entities and have local advocates willing to work toward a creative "save" rather than deterioration and possible demolition.
The 2015 list will be announced in mid-October.
Nomination forms may be downloaded at the Preservation Alliance's website, nhpreservation.org.
Attorney Timothy Boucher of Deerfield has been elected chair of the NH Bar Association's Real Property Law Section. Boucher is an underwriting counsel for Chicago Title Insurance Co. in Londonderry. George Thompson Jr. of Deerfield, an attorney for Welts, White & Fontaine PC in Nashua, has been elected vice chair of the Real Property Law Section.
Jeremy Belanger has joined the staff of Bedford-based TFMoran as a civil project engineer in the Bedford office. His work experience includes hydrolic and hydropower generation analysis, dam removal feasibility and design, and FEMA flood plain mapping.
DeStefano Architects has announced that The Greengard Residence, to be located on Brewery Lane in Portsmouth, recently received unanimous approval from the city's Zoning Board of Adjustment.
As part of the Greengard Center for Autism, the Greengard Residence will be home to four individuals diagnosed with autism who are 21 or older. The goal of the center is to ensure a stable, safe and secure home while providing an enriched and expansive environment over a life time.
Other members of the project team include the builder and owner's representative, V. Todd and Company, MSC Civil Engineers and Land Surveyors, and Hoefle, Phoenix, Gormley & Roberts, providing legal services.
The Greater Manchester Nashua Home Builders & Remodelers Association is looking for donations from area builders for the association's annual yard sale at Riverside Park in Nashua.
The association is looking for donations of such materials such as lumber and trim, windows and doors, cabinets, sinks and vanities, siding and roofing material and carpet, tile, hardwood and other flooring materials.
Donations can be dropped off at GMNHBRA's trailer at Riverside Park, 48-50-52 Bridge St., Nashua, or can be picked up. For more information, call Lisa A. Bowman at 603-672-6090.
The Agnes M. Lindsay Trust has awarded NeighborWorks Southern New Hampshire a $2,500 grant to support the purchase of technology and related equipment for the delivery of homeownership education and counseling services.