People and Property: Real Estate and Construction News Rundown
SNHU baseball stadium renovation, Diamond Acres in Hillsboro sold … and more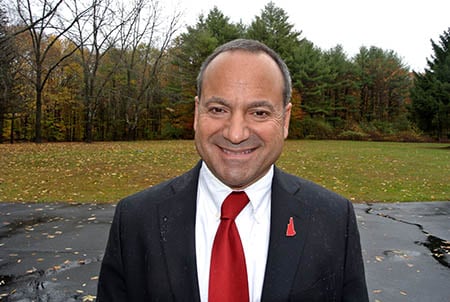 North Branch Construction of Concord has begun the design/build renovation of Southern New Hampshire University's baseball stadium in Hooksett. Construction will include a new press box with a second-floor level press room and a rooftop deck viewing area, stadium bleacher seating, as well as restrooms. The completed project will service the existing fields.
Construction is expected to be complete by the end of October. Design for the project is by Dennis Mires The Architects of Manchester.
Portsmouth-based Wason Associates Hospitality Real Estate Brokerage Group has announced the multimillion-dollar sale of nearly three-century-old The Colonial Inn in Concord, Mass.
Jürgen Demisch, owner of the inn for 27 years, sold the property to Michael and Dorothy Harrington, owners of other historic properties, including the Hawthorne Hotel in Salem, Mass., and the Publick House Historic Inn in Sturbridge, Mass. Closing was held Aug. 6.
The accommodations feature a total of 46 guest rooms, 10 suites and a five-bedroom home for extended stays. The inn also has two restaurants, the Liberty and Merchants Row.
New Hampshire Business sales announced today that the former Diamond Acres restaurant and convenience store site on Route 9 in Hillsboro has been sold by Jeremy Wright of South Burlington Vt. to Tom Jones of Hillsboro.
Wright was represented in the transaction by Leon Parker of New Hampshire Business Sales Inc., and Jones was represented by Jane Williams of the Manning Williams agency.
No sales price or plan for the property, which was destroyed in 2008 fire, a was announced.
Three of Brady Sullivan Properties' Manchester locations –Waumbec Mill, Brady Sullivan Plaza and the Brady Sullivan Tower – have added new tenants.
Along with expansion by an existing tenant, the four deals total more than 13,000 square feet, Brady Sullivan said.
The Waumbec Mill is now home to Bunker IT Systems and HDR Inc., a startup technology company opening its first New Hampshire office. It will occupy 1,500 square feet.
Elite Vapor has taken 1,691 square feet at Brady Sullivan Plaza to be transformed into a vapor shop and vapor bar. A grand opening is planned in early September.
Expanding its office space at the Brady Sullivan Tower at 1750 Elm St. was Maxim HealthCare, which will now occupy 5,996 square feet of existing space.
Hooksett-based ProCon has broken ground on a new Residence Inn by Marriott hotel in Concord, Mass. The company is the design-builder for the hotel, and was joined by Waterford Development Corp. of Framingham, Mass., and XSS Hotels of Portsmouth, NH, which share a joint ownership in the venture.
Colwen Hotels of Portsmouth will manage the hotel.
St. Louis, Mo.-based Subsurface Contractors has selected B2W Software's Maintain construction software, with plans to further acquire the company's Dispatch, Estimate and Track solutions. Currently, Portsmouth-based B2W's Maintain is enabling Subsurface to streamline its back-office processes for better reporting, inventory tracking and field support, while gaining a competitive edge for bidding.
LIT Boutique International Group Inc. has leased 2,630 square feet of retail space in the historic J.J. Newberry building at 19 Congress St., Portsmouth. Maxine Kenny of Colliers International's Portsmouth office represented the lessor, Wenberry Associates, and Peter Considine of The Dartmouth Company of Boston represented LIT.
LIT, which has three locations in Boston, features a mix of fashion-forward designs for the modern urban woman at affordable prices.
TEAM (Town.Exeter.Arts.Music) recently joined forces with Ruffner Real Estate to temporarily convert some of the firm's available commercial properties in downtown Exeter into pop-up art galleries. TEAM is an initiative of the new Arts Industry Alliance nonprofit, an organization spearheading the movement to help educate local businesses, governments and civic groups on how to better allocate their support of the arts so it positively affects artists and musicians residing in their communities.
Mary O'Neill has joined the sales staff of Roche Realty Group Inc.'s Meredith office.

Peter Spanos of Laconia has been named vice president of sales for New Hampshire by Marietta, Ga.-based ROI Corp., a business brokerage firm that serves customers in the New England and Atlanta markets.
Spanos, whose family owned the Shalimar Resort in Tilton for more than years is a licensed Realtor. He also serves in the New Hampshire House and is a member of the House Finance Committee.