People and Property: Real Estate and Construction News Rundown
New principals at JSA, ProCon breaks ground in Mass. … and more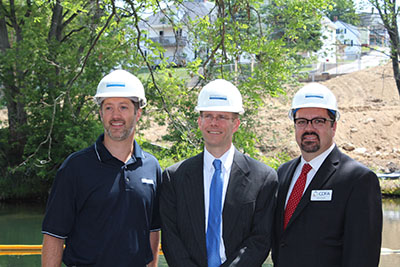 JSA Inc., Portsmouth, has named architects Christine Castaldo, Sandra Hodge and Tracy Kozak as principals of the firm.
Castaldo is JSA's specialist in housing, both for senior living communities and for privatized military ventures. Hodge has 23 years of experience in health care and commercial interior design. Tracy has worked on a wide variety of projects, including historic preservation, cancer treatment centers, higher education facilities and Alzheimer's communities.
Jet Aviation and Hooksett-based ProCon were joined by corporate and local officials at the groundbreaking for a facility improvement project at Jet Aviation's location in Bedford, Mass. ProCon is construction manager for the project, and SAA Architects and Design of Iselin, N.J., is the design architect.
The new facility upgrade is a two-phase 12-month project designed to improve operational safety and efficiency and achieve LEED Silver certification.
DiGiorgio Associates Inc. and Monitor Builders Inc. have once again signed on as gold sponsor of the LRGHealthcare Golf Classic, to be held Aug. 10 at Laconia Country Club.
North Branch Construction, Concord, has donated $19,900 to CATCH Neighborhood Housing through the NH Community Development Investment Program. Earlier this year, North Branch completed construction of Bow Highlands Phase II in Bow, which is owned by CATCH and provides 16 units of workforce housing.
Bedford-based Eckman Construction Company has purchased $5,000 in tax credits to help the Laconia Area Community Land Trust LACLT continue to upgrade its permanently affordable rental housing in Laconia.
"LACLT is a great organization, doing great work in the Lakes Region," said Preston Hunter, Eckman vice president. "We hope more businesses will join us in supporting this important program by purchasing tax credits."
LACLT was last year awarded a total of $500,000 in tax credits to sell by the NH Community Development Finance Authority.
GZA GeoEnvironmental Inc. has announced the promotion of Deborah M. Zarta Gier of Nottingham to associate principal in the Bedford office.
Nancy Desrosiers, a sales associate affiliated with the Coldwell Banker Residential Brokerage office in Laconia, has been recognized with the Coldwell Banker International Diamond Society award, which is presented awarded to the top 11 percent of approximately 87,000 sales associates worldwide in the Coldwell Banker system.
Brenda Rowan, also a sales associate with Coldwell Banker Residential Brokerage in Laconia, has been recognized with the Coldwell Banker International Sterling Society award, which is presented to the top 17 percent of Coldwell Banker associates.
Kevin Lee of Gilford has joined DuBois & King's Laconia office as a civil design technician. His eight years of experience include site development, stormwater management, permitting, roadway and rail design.
Portsmouth-based DeStefano Architects has added former intern Michelle Hobbs to its staff.
A two-level, 2,200-square-foot retail unit at 65 Bow St., Portsmouth, has been leased by Juliette Lovelys Boutique. Landlord is the Philip W. Hodgdon Revocable Trust. Andrew Ward of Colliers International's Portsmouth office was the listing agent and assisted with the multi-year lease transaction.