People and Property: Real Estate and Construction News Rundown
Coldwell Banker Residential Mortgage's new sales managers, S.W. Cole adds to staff … and more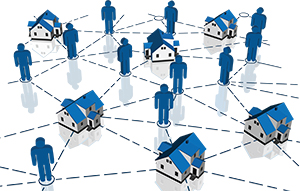 Mary Williams has been named sales manager of Coldwell Banker Residential Mortgage's Laconia office. She previously was sales manager of the firm's office in Portsmouth for 19 years, where she has been succeeded by Kelley McLean. McLean has been a sales associate for CBRM since 2006.
S.W. Cole Engineering Inc. has added welcomes Eric J. Baron to its Somersworth staff. The addition gives the office five geotechnical engineers.
Jewett Automotive Design & Construction, Raymond, has completed renovations to Commonwealth Chevrolet in Lawrence, Mass.
Designed by the team of O'Sullivan Architects and Summit Engineering, the project involved a 2,500-square-foot pre-engineered metal building addition to the company's service shop, adding six new service bays. Work also included heat and the addition of energy-saving insulated metal panel siding, plumbing, roofing, painting, and the installation of overhead doors.
Merrimack County Savings Bank, Concord, recently pledged support to three organizations through the NH Community Development Finance Authority's tax credit program. Recipients and amounts are: the Boys and Girls Club/Suncook Community Center Campaign, $50,000; the New Hampshire Community Loan Fund Individual Development Account Program (NHCLF IDA), $25,000; and CATCH Neighborhood Housing, $10,000.
The tax credit program allows businesses to fund qualifying economic or community development projects in exchange for a tax credit that can be applied against state business tax payments.
Green & Wired Building Solutions, a Loudon-based builder of energy-efficient new homes and providers of home energy upgrades to existing homes, has retained EVR Advertising, Manchester, as its full-service agency.
EVR will perform services including web and digital, pay-per-click, digital advertising, public relations and content marketing.
Terracon, a provider of environmental, facilities, geotechnical, and materials consulting engineering services, is celebrating its 50th anniversary.
Founded on April 22, 1965, Terracon traces its roots to a small engineering firm in Iowa. The firm has expanded into a nationwide operation with more than 150 offices and 3,400 employees. Terracon the Manchester market when it merged with Jaworski Geotech Inc. in 2007. The Manchester office includes 32 employees with a staff of dedicated engineers, scientists, and technicians.
Unison Realty Partners, a Boston-based retail real estate investment firm, recently welcomed IKKO, a Japanese restaurant, to its property at Dover Crossing.
Eastern Bank Charitable Foundation has granted NeighborWorks Southern New Hampshire $10,000 to support the education, coaching and counseling services offered by the HOMEteam program in New Hampshire.
The contribution supports pre-purchase and post-purchase homeownership education and financial literacy education services in Nashua, Manchester, Concord and Laconia.
HOMEteam is a collaboration between NeighborWorks, CATCH Neighborhood Housing and the Laconia Area Community Land Trust.