People and Property: Real Estate and Construction News Rundown
Groundbreaking for Ridge Marketplace, Fitzgerald Motorsports plans second location … and more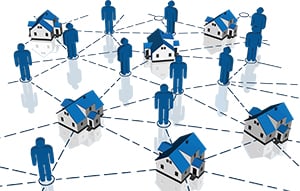 Waterstone Retail will break ground on Thursday, April 16, for The Ridge Marketplace on Route 11 in Rochester.
Set to open in the spring of 2016, the 300,000-square-foot open-air retail shopping center will be the centerpiece of the Granite Ridge Development District and will include a mix of retailers, restaurants, services, a movie theater and outdoor green space for seasonal events.
Fitzgerald Motorsports, located at 1258 Union Ave., in Laconia, will be opening a second location and showroom at Paugus Bay Marina.
Anthony Avrutine, director of RE/MAX Bayside's Commercial Division, and Rob Wichland, broker/owner of RE/MAX Bayside, brokered the sale to an investor, who is leasing it to Paugus Bay Marina.
Cobb Hill Construction, Concord, has completed work on two dental office projects, a renovation for the dental office of Dr. Tracey Pike at Deerfield Family Dental and the new Lincoln Pediatrics Dentistry office in Lincoln, an expansion of the Concord Pediatric Dental practice.
Jewett Automotive Design & Construction, Raymond, has contracted with Commonwealth Motors for the renovation of its Volkswagen dealership in Lawrence, Mass.
The project involves upgrading the existing metal roof with a Butler Buildings High Profile Metal over Metal Reroof System, as well as construction of a new 750-square-foot service drive. Designed by O'Sullivan Architects and Summit Engineering, the work will be carried out while the dealership is fully operational and is expected to be completed by early summer.
Bob Tupper has been named vice president at Exterior Designs Inc., Manchester. In addition, David Anzalone was recently hired as an estimator by the firm.
The company specializes in fiber cement panel and siding, exterior insulation finishing systems, stucco and specialty exterior cladding.
Concord-based North Branch Construction recently named Kelly Martin of Henniker as office coordinator. She had been the firm's receptionist for 10 years.
In addition, North Branch recently completed the erection of structural steel for the new administrative portions of the Laconia Central Fire Station at 848 N. Main St. Street in Laconia.
Construction is on track to be complete by December. Design for the project is by Warrenstreet Architects of Concord.
Franconia-based Peabody & Smith Realty recently joined the Vacation Rental Managers Association, allowing the company to join with other vacation rental managers to discuss best practices, promotion of properties and areas, and will gain knowledgeable insight from leading experts in the vacation rental industry.
Citizens Bank has made a $25,000 contribution to the HOMEteam program as part of the Citizens Helping Citizens Manage Money financial literacy initiative.
The program is a collaboration between NeighborWorks Southern New Hampshire, CATCH Neighborhood Housing and Laconia Area Community Land Trust. It provides such services as pre-purchase and post-purchase homeownership education and other subject areas pertaining to personal finance.
Mark Chalifour has joined Merrimack County Savings Bank and Meredith Village Savings Bank, subsidiaries of New Hampshire Mutual Bancorp, as vice president of residential and mortgage sales.
He most recently served as a vice president at Merrimack Title Company Inc.