People and Property: Real Estate and Construction News Rundown
New Portsmouth realty firm, bank branch set to open at I-93 rest area … and more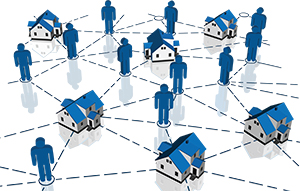 Diane Silva has opened Diane Silva Realty & Associates, a boutique real estate agency in Portsmouth. A member of the Agents Hall of Fame, Silva has covered both the Concord and Seacoast areas, as well as territory in between.
Diane Silva Realty will specialize in luxury homes, waterfront properties, new construction, condominiums and golf communities.
The office is located at 239 Islington St. in Portsmouth.
Concord-based Merrimack County Savings Bank will be opening its eighth branch at the new Welcome Center on Interstate 93 North in Hooksett.
The branch is expected to open in January 2015.
"We are thrilled to be a part of the new Welcome Center in Hooksett," said Linda Lorden, senior vice president, retail branch administration, for the bank.
Jewett Automotive Design & Construction, Raymond, has begun renovations at the Team Nissan North dealership in Lebanon.
Designed by the team of Port One Architects and Summit Engineering, the project entails 5,300 square feet of showroom renovations and the creation of a new service write-up area in the existing service department. Exterior upgrades include a he new Nissan entry element and a facade of updated aluminum-coated metal panels.
Jewett also has contracted with Commonwealth Motors to renovate its Chevrolet dealership in Lawrence, Mass.
Some 4,250 square feet of Class A office space has been leased by Securitas Security Services USA Inc. at 1100 Elm St. in Manchester.
Michael Harrington of Bedford-based Harrington & Reeves represented Securitas in the transaction.
Goodwill Industries of Northern New England is opening a new store and donation center at 9 Wason Rd. in Hudson.
The 64,000-square-foot facility is made up of a 12,800-square-foot retail store and a 10,000-square-foot Buy the Pound Outlet. The remaining space consists of a donation center with canopy, donation processing area, offices and logistics space.
Eckman Construction, Bedford, has been selected by developer LCB Senior Living of Norwood, Mass., to serve as construction manager to build The Residence at Salem Woods, a new senior living development in Salem, N.H.
The apartment building will include a mix of studio, one-bedroom and two-bedroom apartments and will feature a memory care wing.
Construction is scheduled for completion in early 2016. The Architectural Team of Chelsea, Mass., is providing architectural services for the project.
Chris Rydell is the new managing sales director of the Camden, Maine, office of Keene-based Better Homes & Gardens The Masiello Group.
Portwalk Place has leased 70 percent of its 10,000 square feet of class A office space to Steward Partners and Raymond James, two nationally recognized financial service companies.
Steward Partners caters to family, institutional and multigenerational investors. Raymond James provides client group, capital markets, asset management, banking and other services to individuals, corporations and municipalities.