People and Property: Real Estate and Construction News Rundown
4th ClearChoiceMD center opens, Nathan Wechsler expands … and more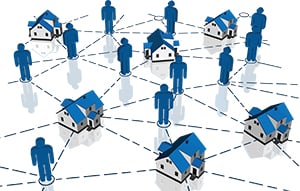 ClearChoiceMD is continuing its expansion with the opening of a fourth New Hampshire urgent care center in the Fairbanks Plaza in Keene.
ClearChoiceMD opened its Portsmouth facility in October, a Lebanon center in November and a Belmont location earlier this month.
ClearChoiceMD, owned and operated by physicians, currently has four locations in Vermont (Berlin, St. Albans, Rutland, Brattleboro) and is also planning new facilities in South Burlington, Vt., and Scarborough, Maine.
Nathan Wechsler & Company says it is expanding its Concord headquarters to accommodate projected growth. The firm will transition from occupying one suite on the fourth floor of 70 Commercial St. in Concord, to occupying the entire floor, a total of 11,000 square feet.
"Expanding our footprint to the entire top floor allows us to grow while continuing to attract top talent," said Rusty Mosca, the firm's Managing Director. "It demonstrates our commitment to the region and our optimism about future opportunities in New Hampshire as we look to expand staff and service offerings."
Westboro House, a licensed 12-bed residential care facility for the elderly located on Elm Street in Lebanon, has been sold by Angela and Michael Zizza to Westboro Residential Care LLC to Vince and Carrie Jewell.
The sale, completed in November, makes Westboro House part of a family of three similar facilities operating in New Hampshire and Vermont. All provide residential assisted care in a home setting.
The transaction was brokered by Business Transition Strategies, a division of N.H. Business Sales based in Pembroke. Financing was provided by Lake Sunapee Bank.
The Jewells own two other assisted living facilities: Ascutney House in Ascutney, Vt., and Davis Home in Windsor, Vt.
Members First Credit Union has announced plans to open a new 25,000-square-foot branch next year at 136 Bedford Center Rd. in Bedford.
A fall 2015 branch opening is planned pending final Bedford Planning Board approval.
Pete Duval, owner of DuvalTeam Real Estate,
recently brokered the sale of an 0.8-acre site at 12 Old Loudon Rd. in Concord. The sellers were Timothy and Patricia Foster and the buyer was Sienna Investments LLC. Duval said the site will be developed with abutting property to include new restaurants and other businesses. Sale price was $800,000.
Moultonborough-based Preferred Vacation Rentals has opened a second location 25 N. Main St. in Wolfeboro.
Mitchell Lahar has joined DeStefano Architects, Portsmouth, as a project coordinator. He previously worked at Black River Design Architects in Montpelier, Vt.
Peabody & Smith Realty recently welcomed Patty O'Brien to its team of associates. O'Brien has been a licensed New Hampshire sales associate for five years.
Coldwell Banker Residential Brokerage, Center Harbor, recently donated about 100 pounds of food that was collected at its office, along with a check for $1,000, to the Lakes Region Food Pantry. All year long, agents and employees of the Center Harbor office have deductions taken from commission checks and payroll checks, and that money all goes to the local food pantry.
The New Hampshire's Women's Council of Realtors recently installed presidents for 2015. Incoming presidents are State President Judith Richard; Southern NH Chapter President Christine Baranofsky; and Central NH President June Branscom.
Southwestern Community Services and Community Action Program Belknap and Merrimack Counties Inc. have each received a $25,000 federal Housing Preservation Grant to help rural families repair and rehabilitate their homes.
The grants, awarded by the U.S. Department of Agriculture, "will help low-income families make essential home repairs, often to remove safety and health hazards, so the families can stay in their homes," said USDA Rural Development New Hampshire and Vermont State Director Ted Brady.