People and Property: Real Estate and Construction News Rundown
Workforce housing luncheon postponed, tax credits for affordable housing … and more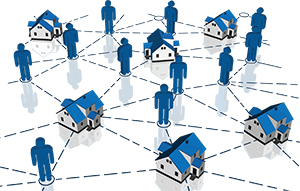 The Business and Industry Association's "Housing and Hiring" luncheon, scheduled for Friday, Dec. 5, in Manchester, as been postponed. The BIA said the luncheon will be rescheduled in the spring of 2015.
Six New Hampshire communities will soon see more affordable housing and jobs due to the investment of almost $20 million. The investment is coming in the form of housing tax credits, a federal program designed to build public-private partnerships in order to meet the growing need for rental housing. The program is administered in New Hampshire by the New Hampshire Housing Finance Authority.
The tax credits are awarded over a ten year period. Private businesses then purchase the credits and become limited partners in the housing developments.
The six projects that received tax credits are Salmon Brook Senior in Nashua, Phase Two of Conway Pines in Conway; South Main Supported Apartments in Manchester; Mill at Lamprey Falls in Newmarket; Phase Two of Gile Hill Apartments in Hanover; and Abenaki Springs in Walpole.
Families in Transition a homeless services provider in Manchester, Concord and Dover, is the recipient of $25,000 donation from Bank of New Hampshire through the Community Development Finance Authority's Tax Credit Program to be used for the construction of its new Family Place Resource Center and Shelter. The new comprehensive center will provide a home for 80 parents with 120 children per year, nutritious meals, onsite healthcare for children and families, access to employment assistance, and more.
Metro Walls, Manchester, has started the steel framing and sheeting work on Homewood Suites Gateway Hills, an extended-stay hotel in Nashua and renovations at a Courtyard Marriott in Waltham, Mass.
Homewood Suites Gateway Hills is owned by John J. Flatley Company and is expected to open summer 2015. Contractor is Opechee Construction Corp.
In addition, Metro Walls has announced that Mark Blondeau has joined the firm as a project manager.
Jewett Construction Co. Inc., Raymond, has added John Romano of Pelham to its project team.
Keene-based Better Homes & Gardens The Masiello Group, has added Ally Schade Karter to its sales staff in Augusta, Maine.
Heather Duval, licensed real estate agent with Duval Team Real Estate of Concord, has been awarded the Graduate Realtors Institute designation by the National Association of Realtors.
Academy Roofing Corp., Rindge, completed the new roof construction for Hypertherm's 160,000-square-foot facility in Lebanon. Jan Becker, architect at builder Bread Loaf Corp. of Middlebury, Vt., said Academy was chosen "due to the ability to meet a demanding wintertime schedule and their vast knowledge of green building industry requirements. They ensured all products met or exceeded the LEED requirements."