People and Property: Real Estate and Construction News Rundown
NHHBA starts auction for vets, North Branch names GM … and more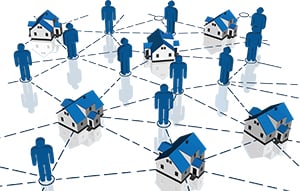 The New Hampshire Home Builders Association has launched its Hammers for Veterans Auction, with the goal of raising funds to support local eligible New Hampshire disabled veterans who are in need of construction-related services at their homes. NHHBA will be auctioning off a number of fun and unique items to raise money for the foundation beginning Friday, March 6, 2015. In addition, a "live" auction portion of the event will take place at the 48th New Hampshire State Home Show, March 13-15, 2015.
To donate items visit BiddingforGood.com. For more information, call NHHBA at 603-228-0351.
Bruce Blazon of Concord has been named general manager of North Branch Construction Inc. Blazon is a project manager/estimator who has been with North Branch for over 22 years and has served as vice president and principal of the firm since 2004.
Alta Stone Place, located in the former industrial area off of Washington Street in Melrose, Mass., is nearing completion of its final phase of construction. Procon of Manchester, N.H., is the general contractor for the three year conversion of the historic Boston Rubber Shoe Co. mill into a luxury rental community. Wood Partners is developing the community and Bargmann Hendrie + Archetype Inc. of Boston is project architect.
Jewett Automotive Design & Construction, Raymond, has contracted with Orleans Toyota for a renovation to its dealership in Orleans, Mass. Designed by Port One Architects, the project includes 3,400 square feet of exterior renovations to comply with Toyota branding upgrade requirements.
Salem-based CPM, Construction Planning And Management, has completed five lease transactions totaling 13,500 square feet at Riverside Park, Hooksett. New businesses include Maintaining Independence Adult Day Care, Nyberg Orthodontics/Hooksett Children's Dentistry, Skin Deep Tattoo and Designs By Selena.