People and Property: Real Estate and Construction News Rundown
Home Builders back Hassan, Cobb Hill wins national award … and more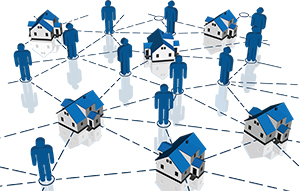 Citing Gov. Maggie Hassan's record of delivering for New Hampshire's families, businesses and economy, the New Hampshire Home Builders Association has endorsed her Hassan for re-election.
Paul Morin, representing the Build-Pac Trustees of the association, said the governor "understands the importance of the residential building industry to New Hampshire's economy, and we are pleased to endorse Governor Hassan for re-election. Governor Hassan's proven ability to work across party lines to deliver for New Hampshire's small businesses makes her the clear choice on the economy in this election."
Cobb Hill Construction, Concord, has been awarded a National Associated Builders and Contractors Excellence in Construction Award.
The firm received the Historical Restoration Excellence Award for its work on the Endicott Hotel in Concord for CATCH Neighborhood Housing.
Roland Pothier of Derry has joined North Branch Construction as a project manager/estimator at the company's headquarters in Concord. For over 17 years, Pothier owned his own residential construction business in Derry and is a past president of the Southern New Hampshire Builders Association.
Littleton-based Eastern Construction Management has launched of a new website (easternconstructionmanagement.com) that it says provides visitors with a clear, attractive presentation of ECM's services and approach, as well as a portfolio that illustrates the variety of projects that ECM has performed for its clients. ECM also launched a new Facebook presence that will enable them to offer another venue to showcase its projects and expertise.
Hayward & Company, a Bristol-based custom home builder, was recently awarded the People's Choice Award for a house it entered into the Lakes Region Parade of Homes Tour during Columbus Day weekend. The 6,000-square-foot home is a Douglas fir timber frame with unique interior and exterior detailing completed by the company.