People and Property: Real Estate and Construction News Rundown
VA clinic planned in Littleton, golf event raises $12k … and more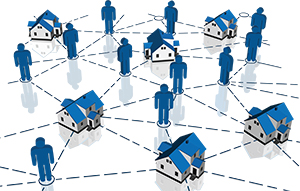 The Department of Veterans Affairs has entered into a lease for an expanded clinic location consisting of almost 10,000 square feet at Mt. Eustis Commons on Cottage Street in Littleton.
Mt. Eustis Commons is located at 260-262 Cottage Street and is owned by AHEAD, Inc., a non-profit organization that works to provide quality affordable rental housing, financial education, and homeownership opportunities in northern New Hampshire.
Peabody & Smith Realty commercial broker Mary Doherty, based in Franconia, represented AHEAD and assisted the Department of Veterans Affairs in this transaction.
Affiliates of the Seacoast Board of Realtors raised more than $12,500 during the annual Seacoast Board of Realtors Golf Outing, held Sept. 18 at Pease Golf Course.
The Golf Outing raises funds for the Lori Breard-Weeden Scholarship, and two local charities: Operation Blessing and Seacoast Family Promise. Some 87 golfers participated in the event.
The sale of 8 Auburn St., Nashua, to One Main Street Professional Building LLC, has been announced by Mark Prolman of Prolman Realty Inc., who assisted the buyer. Melanie Bergerson represented the seller, The Margaret Squires Revocable Trust.
The intended use of the building is an annex for the Counseling Center of Nashua. According to the Hillsborough County Registry of Deeds the selling price was $275,000.00.
Portsmouth-based New England Hotel Realty has announced the sale of the 30-room Stonehedge Inn & Spa in Tyngsboro, Mass. NEHR acted as the exclusive advisor to the seller.
The buyer is a global hotel investment, development and management company with operations in the United States, Europe and in South Asia, NEHR said.