People and Property: Real Estate and Construction News Rundown
Vermont enviro firm sets up shop in Concord, Brookstone completes car dealership renovation … and more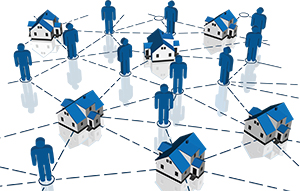 Stone Environmental Inc., a Montpelier, Vt.-based environmental consulting firm, has opened a New Hampshire office in Concord to meet what the company said is a growing workload involving investigation and remediation of contaminated sites.
The New Hampshire office, located at 18 N. Main St., Suite 206, Concord, is headed by Bette Nowack, a senior project manager, and Andrew Fuller, a project geologist. Also working at the Concord office is Joseph Schmidl, a senior geologist previously stationed in Stone's Montpelier office.
Brookstone Builders Inc., Manchester, recently completed an exterior enhancement and renovation project for Singer Subaru in Plaistow.
The project involved installation of a new asphalt shingle roof at the facility, as well as replacing the dealership's Subaru Icon Tower, a symbol that reflects Subaru's corporate branding.
Cobb Hill Construction, Manchester, recently completed renovation of the main entrance and lobby area of Hyde Hall at Plymouth State University. The project, awarded only weeks before classes began, included removing old flooring down to the concrete surface, resurfacing that concrete and applying a special epoxy finish.
Project manager was Claude Dupuis and project supervisor was Steve Blasdell. Misiaszek Turpin was the architect.
Rachel Rowell has joined Cityside PM, Manchester as a property manager to oversee services for several condominium properties in New Hampshire. She previously held a similar position at Harvard Management.
Candace Grocott of Bedford has joined Bean Group's Bedford office.
Tom Balon, owner of TwoKph LLC, has purchased a 12,000-square-foot retail property at 97 Storrs St. in Concord from Janvier Associates Inc., which is owned by Francis J. Haines. The Concord Antique Gallery, founded and owned by Haines, will continue to operate at the property.
Brenda Litchfield of Concord Commercial Real Estate facilitated the transaction. Financing was provided by Merrimack County Savings Bank.
Jewett Automotive Design & Construction, Raymond, has completed renovations to the RH Long Motor Sales Cadillac dealership on Turnpike Road in Southborough, Mass.
The project consisted of installing approximately 600 square feet of decorative stone veneer panels over the existing façade of the service building.