People and Property: Real Estate and Construction News Rundown
$1.8m Nashua land deal, RPF's statewide contract … and more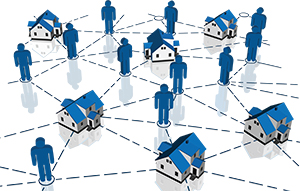 The 1.8-acre site at 565 Amherst St., Nashua, has been sold to JDC New England Ventures for $1.8 million. JDC was represented by Sue Ann Johnson and Thomas Farrelly of Cushman & Wakefield. The seller, Wilford J. Piekerski Revocable Trust, was represented by Mark Prolman of Prolman Realty Inc.
Northwood-based RPF Environmental Inc. has been awarded a contract for asbestos inspections, testing, analysis and air monitoring services for the state of New Hampshire. The contract is overseen by the New Hampshire Department of Administrative Services.
One of the primary services to be provided under the contract will be the performance of federally mandated building inspections prior to any renovation and demolition activity.
Amherst-based Fulcrum Associates Inc. has broken ground for the 11,300-square-foot Pepperell Medical Office Building for Southern New Hampshire Health Systems' Foundation Medical Partners at 68 Main St. in Pepperell, Mass. The new single-story building will accommodate medical offices for Pepperell Family Practice primary care, Immediate Care of Southern New Hampshire, and will include lab services.
Dignard Architectural Services of Bedford provided design services while Allen & Major Associates of Manchester provided civil engineering services for the project.
Gary Manoogian is leading the project as project manager for Fulcrum, and Rob Fournier is the on-site superintendent. Subcontractors include Gate City Electric, Oliver Mechanical, JJ Ciampa Plumbing and Tri-State Sprinkler.
The second phase of renovations at Newmarket Junior-Senior. High School was recently completed by Meridian Construction of Gilford. Focused on life and fire safety improvements and upgrades, the project brought the school's northeast wing into ADA compliance.
The National Endowment for the Humanities has awarded the New Hampshire Historical Society a $350,000 Sustaining Cultural Heritage Collections grant to help the society rehabilitate its National Register-listed headquarters building at 30 Park St. in Concord.
J. Lawrence Hall Co., Nashua, has announced that Rob Hansen has been hired as a sales engineer and Edward Armstrong and Carol Maynard have been hired to assist the Service and Controls Division.
Brookstone Builders Inc., Manchester, recently completed a renovation project for American Alarm & Communications, Inc. of Manchester.
Work involved the complete renovation of a newly acquired 7,200-square-foot building on Zachary Road in Manchester. In addition to new walls, ceilings, flooring and interior finishes, various electrical and mechanical updates were also made to meet code requirements and to satisfy the demands of the new layout for what is now the company's Sales & Service Center.
Jack Boardman was Brookstone Builders' Project Manager.
Tiffany Howard has joined Peabody & Smith Realty as a sales associate. She will be based out of the Littleton office.
Francestown has joined the Southern New Hampshire Planning Commission, increasing its number of member communities to 15. On March 31, the town asked the New Hampshire Office of Energy and Planning to adjust the regional commission boundaries to allow it to move from the Southwest Regional Planning Commission district to the Southern New Hampshire Planning Commission district.