People and Property: Real Estate and Construction News Roundup
New Seacoast, Manchester-Nashua board officers installed … and more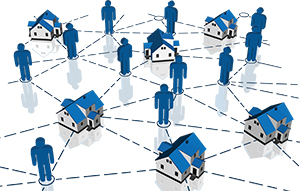 The Seacoast Board of Realtors recently installed Marion Cheney as its 2015 president. Cheney, an agent at RE/MAX On the Move in Exeter, has been licensed in New Hampshire since 1998, and before that in Virginia since 1984.
Also installed as officers of the Seacoast board were: president-Elect Linda Ruppe, RE/MAX On the Move; treasurer Jim Therrien, Better Homes and Gardens Masiello Group; secretary, Barbara Lemieux, Seacoast Board of Realtors executive officer; and past president Tom Heany, Keller Williams Coastal Realty.
The Greater Manchester/Nashua Board of Realtors has announced its 2015 leadership team.
Installed as president was Jerome B. Duval, broker/owner of Red Door Real Estate in Manchester. Also installed as officers were: also installed as officers for 2015 were:
Maggie Kerkhoff of Hollis, vice president; Michele West of Hooksett, treasurer; Michelle Gannon of Hooksett, secretary; Theresa Grella of Amherst, immediate past president; and Angie Kopka of Nashua, lifetime ex-officio member.
Metro Walls of Manchester recently donated $10,000 to the New Hampshire Food Bank. The donation allows the Food Bank to purchase nearly 10,000 pounds of food to help support its mission of working to provide nutritious food and resources to New Hampshire residents in need.
In addition to the $10,000 donation Metro Walls recently completed a three-year, $30,000 commitment to the Food Bank's capital campaign in which monies were allocated to help purchase a new freezer and help with construction of a new partner agency room.
Karen Walsh has joined the sales staff of Peabody & Smith Realty as a broker associate. She works out of the firm's Plymouth office.
Harriman, an architecture and engineering firm with offices in Maine and New Hampshire, has announced that William H. G. Gatchell has joined the firm as a senior architect.
Jewett Construction Co. Inc., Raymond, has announced the promotion of Steve Harris of Manchester to senior project manager.
In addition, Jon Warner of Cape Neddick, Maine, a former JCCI intern, has been hired as project coordinator working under Harris to assist the project management team.
Cobb Hill Construction, Concord, recently was awarded Associated Builders and Contractors of New Hampshire and Vermont's "Best of the Best" Chairman's Award for its work on the Endicott Hotel in Concord for CATCH Neighborhood Housing. The purpose of the project is to bring market-rate apartments into the downtown area. The results of the renovations provided attractive and affordable market rate housing for the citizens of Concord.
Civil engineer William Dawson of Cumberland, Maine, has joined Tighe & Bond as a senior project manager working out of the firm's Portsmouth office.
On Christmas Eve, residents of West Wind Estates in Rochester closed on the purchase of their 129-unit park, making it New Hampshire's 111th resident-owned manufactured-home community and Rochester's ninth.
The residents used training and technical assistance from the New Hampshire Community Loan Fund's ROC-NH program to form formed Stony Brook Cooperative in July 2014 in order to convert their privately owned manufactured-home park into a resident-owned community.
The cooperative then negotiated with park owners Ralph and Pauline Torr for the final purchase price of $3.5 million before finalizing the deal with financing from the Community Loan Fund and the Torrs.
Concord-based North Branch Construction recently donated $1,450, the proceeds of its Safety Fine Program, to CATCH Neighborhood Housing. North Branch and CATCH are currently working together on the Bow Highlands Phase 2 workforce housing project in Bow.
In addition, the firm has named Donald Carter its safety director.